Profile: Will Smith and family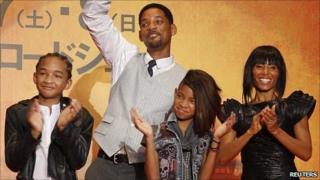 A record deal signed by Will Smith's youngest child, Willow, with rapper Jay-Z is the latest success for a family who are big business in the US.
Will Smith, who started out as one half of the hip-hop duo DJ Jazzy Jeff and the Fresh Prince, has gone on to become one of the most popular actors in Hollywood.
With eight movies in a row grossing more than $100m, he is one of the most bankable stars in the world.
He got his big acting break in US comedy show The Fresh Prince of Bel-Air, which began in 1990 and was also a hit in the UK.
His lovable and laid-back character - together with a catchy rap for the show's title music - helped make him one of the most recognisable faces on US TV.
From early movie success with 1995's Bad Boys, he has gone on to star in huge blockbusters including Men In Black, Independence Day and I, Robot.
He has continued to make records throughout his career - often using them on the soundtracks to his movies.
Successful films at the box office have often been accompanied by top 10 hits for the star.
In 1997, he went to number one in the UK with the track Men In Black and has had a further 10 UK solo hits.
Jazzy Jeff and the The Fresh Prince, meanwhile, have had five UK hits.
Solid marriage
Also in 1997, Smith married Jada Pinkett, who he met when she auditioned for The Fresh Prince of Bel-Air two years earlier.
After 13 years of marriage, the couple appear to have one of the most solid relationships in Hollywood.
She once told the USA Weekend magazine that she would rather "throw my career away before I let it break up our marriage".
A star in her own right when the pair tied the knot, she began her career appearing in several low budget films before landing a starring role opposite Eddie Murphy in the 1996 movie The Nutty Professor.
She has gone on to appear in films such as Scream 2, two Matrix movies and Collateral, with Tom Cruise.
In 2003, she helped create the metal rock band Wicked Wisdom in which she starred as lead singer.
Sharon Osbourne said the band "blew her away" when she saw them perform.
"When you see and hear Jada with her band it's apparent that she has nothing but love and respect for this genre of music," Osbourne said.
Born to one of the most famous and powerful show business couples in the world, both the Smith children have followed in their parents' footsteps.
Their eldest child, Jaden, appeared in his father's 2006 movie The Pursuit of Happyness at the tender age of eight.
The child star was presented with the best breakthrough performance at the 2007 MTV Movie Awards for his role in the film.
That same year, he presented an award at the Oscars.
As well as appearing in the 2008 movie, The Day the Earth Stood Still, Jaden landed the starring role in the recent Karate Kid remake opposite Jackie Chan.
However, unlike most child actors, it is unlikely Jaden had to audition for his role as the movie was produced by both his parents.
When asked, in July, whether he was planning to be a bigger star than his dad, Jaden said: "I'm going to try."
His father, meanwhile, said having famous parents was definitely a bonus.
"He grew up in this industry so it's not foreign to him," Smith said.
"He understands that this is a family business.
"He didn't have the shock and the radical life change that child actors usually have coming into the business."
Before her musical career began, Willow started out in film.
She made her acting debut in her father's film I Am Legend, in 2007, and voiced a character in the animated movie Madagascar 2, along with her mother.
Willow's debut single, Whip My Hair, has been viewed a million times on YouTube since its release in the US this week.
It has been released through Roc Nation - the label of rap star and business mogul Jay-Z.
Jaden and Willow - with their individual looks and styles - have already become red carpet regulars and, when interviewed, show assurance beyond their years.
With their parents to guide them, there success looks set to continue for many years to come.