Mackenzie Crook: From Jerusalem to Vermont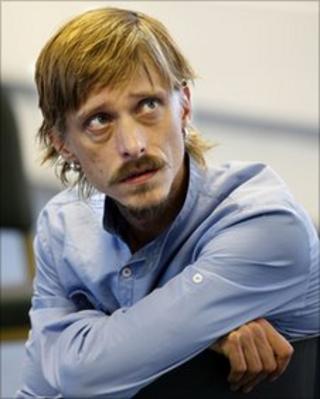 After the theatrical triumph of Jerusalem, Mackenzie Crook might have been expected to follow it with another big West End role, or a part in a Hollywood blockbuster.
Instead, he will spend the next month playing to audiences in an intimate 80-seat theatre in Shepherd's Bush.
Crook, who shot to fame as paper salesman Gareth Keenan in The Office, plays a professional slacker in the UK premiere of The Aliens by American playwright Annie Baker.
He's joined in the cast by Ralf Little (The Royle Family) and Olly Alexander (Bright Star).
"We're three guys out the back of a coffee shop in Vermont," explains Crook, during a break in rehearsals at the Bush Theatre. "We're wasters, getting stoned and drinking mushroom tea.
"My character Jasper has delusions of being a writer - he wants to be Kerouac, or Burroughs or Aldous Huxley."
Crook is no stranger to no-hopers. His character Ginger in Jerusalem (for which he earned an Olivier nomination) was a wannabe DJ.
So why the decision to move from a production like Jerusalem (with its on-stage caravan and live chickens) to a tiny space in W12?
"You can't go bigger than Jerusalem," says Crook. "I want my next job to be something that interests me and pushes me. It's irrelevant if it's in a tiny venue to a few people or a film that's going to reach millions."
He adds: "This is as terrifying as doing a big West End venue, because [he holds his hand up to his face] the audience is right here."
Chicken factory
After the sheer Englishness of Jez Butterworth's play (Jerusalem is set in Wiltshire on St George's Day), Crook is having to master a New England accent - with a dialect coach.
"It's scary, everyone knows a bad American accent is painful," admits Crook. "If we get a good American accent - great; but if we can hone it down to Vermont - perfect."
He also gets to play the guitar on stage, during a song with Ralf Little.
"It'll be the first time I've played the guitar in front of anybody. I've been playing for years but I can never improve above a certain level - and it's pained me for years."
Crook's other hobbies include breeding tortoises and drawing (his illustrations adorned the programme for Jerusalem).
"I don't watch TV, I don't watch many films - I can't sit still long enough. I have these other interests, but I'm not an expert."
One thing he doesn't collect is Toby jugs. Or stamps.
And he's never worked as a chimney sweep.
These are just some of erroneous details that have made it onto Crook's Wikipedia entry.
"Somebody peppered it with 'facts' about me - they were all quite believable," he laughs. "It didn't seem malicious. They just had a great afternoon adapting my Wikipedia page."
As a response, Crook has written a jokey biography for his official website.
"People often say that I've worked in a chicken factory - I've seen that loads of times," Crook says.
Neither is he a Green Party activist (as Wikipedia said), through he admits to being "an environmentalist at heart".
Crook speaks enthusiastically of the eight acres of woodland he owns in Essex.
"I was up there on Sunday. There's not much I have to do. At the moment it's just a place to take the kids and go and camp.
"It's got a badger set, it's got fallow deer and muntjac deer, and foxes and pheasants. All three of our native woodpeckers live there. And the place is covered in the most amazing fungi - it looks like an alien landscape."
Best known on the big screen for the Pirates of the Caribbean films, Crook has two movie appearances scheduled for 2011.
The first is medieval adventure Ironclad. "It's going to be great - I play an archer holed up in Rochester Castle."
And he'll appear as an animated henchman in Steven Spielberg's Adventures of Tintin: Secret of the Unicorn.
It's a role that that required him to wear a motion capture suit.
"It was interesting, but not particularly fulfilling as an actor. You feel like you're in a laboratory - there's no props, no scenery - there's nothing to work with. They were finishing off Avatar next door while we were there."
Tintin isn't due out until the end of 2011, but Crook does already have an idea of how he'll look in the finished movie.
"As you walk into the area you turn up on the monitors animated as a Tintin character in a Tintin world.
"I'm a guy with a flat-cap and roll-neck sweater."
The Aliens opens on Monday 20 September (with previews from 15 September) at the Bush Theatre, Shepherd's Bush Green, London W12.