Pixie Lott and Lady Gaga set music records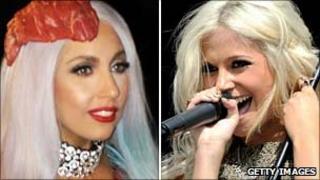 Pop stars Pixie Lott and Lady Gaga have made their debuts in the Guinness World Records for their musical achievements, it has been announced.
Lott has been included for her single, Boys And Girls, which made the biggest jump to number one ever, climbing from number 72 in just a week.
Lady Gaga has set the record for most weeks in the UK chart, clocking up 154 weeks in the top 75, beating Oasis.
She has also been named the most searched for female on the internet.
The previous record holder had been former governor of the state of Alaska, Sarah Palin.
Editor-in-chief of this year's records book, Craig Glenday, said: "Almost two years ago, Lady Gaga and Pixie Lott were not even around so it's amazing they have broken these records.
"Every year, so many new music records are broken."
Simultaneous hits
The late singer Michael Jackson was named the most searched for male on the internet, overtaking the previous record held by Heath Ledger.
Madonna has broken several records, including biggest-selling female album act of the 21st Century in UK.
She also clocked up the most number one albums by a female artist and is the UK's top-selling female recording artist.
In film, James Cameron's film Avatar appears 12 times in the new record book, and Twilight sequel New Moon earned the title of highest box office gross figures for an opening day, after making $72.7 million (£43.5 million).
The Harry Potter movies were named the highest box office earner for a series.
The BBC's Doctor Who and Casualty have earned the titles of longest-running science-fiction TV series and longest-running prime time medical drama respectively.
Also making its first appearance in the records book is the US musical comedy series Glee, for most simultaneous hits on the UK singles chart.