America's Got Talent winner is crowned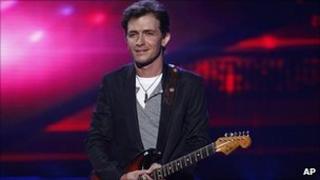 Blues singer Michael Grimm has been named the winner of America's Got Talent.
The 30-year-old from Mississippi beat 10-year-old soprano singer Jackie Evancho of Pittsburgh.
Grimm, who has won $1m (£0.64m) and will headline his own show at Las Vegas, performed When a Man Loves a Woman for the final show.
He plans to use some of his prize money to help his grandparents, who lost everything in Hurricane Katrina.
Grimm looked stunned when he was announced as the winner.
When asked how he felt, he said: "Is this really happening?"
Evancho, who impressed judges Sharon Osbourne, Piers Morgan and Howie Mandel, said she had enjoyed taking part in the show.
"This experience has been amazing. I have loved every single moment that I've been doing it," she said.
The two other finalists were Prince Poppycock and performance dance troupe Fighting Gravity.