Lost fans complete TV marathon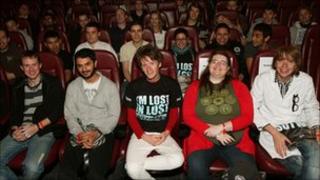 A hardcore group of fans of the TV series Lost have spent four days in a London cinema watching all 121 episodes back-to-back.
Around 100 fans began the marathon session on Monday at the Prince Charles Cinema in Leicester Square - complete with sleeping bags and pillows.
But only 21 were left when the final episode screened in the early hours of Friday morning.
Short breaks were taken every four hours, and paramedics were on-site.
'High spirits'
One of those who went the distance was Donna Lalek, 28, from Chester.
Speaking to the BBC a few hours before the end, she said: "I feel absolutely fine - still enjoying it. There's good camaraderie.
"Most people are still into it - some are starting to get a bit tired. But everyone's still in high spirits."
The bank administrator took a week's holiday to take part in the event.
"Before Lost I was perfectly normal, so I've never done anything quite like this before - most people think I'm absolutely insane."
She said she had managed to grab some sleep while the episodes were screened.
"It's really confusing. I have no concept of time any more - I don't know if it's night or day."
The screening marathon was held to mark the DVD release of Lost: The Final Season this week.
The TV series came to an end in May. For 121 episodes over six series, viewers followed the trials of a group of plane crash survivors stranded on a tropical island.
The first instalment was broadcast in the UK in August 2005 and was reportedly the most expensive pilot episode ever made.