Sacha Baron Cohen to play Freddie Mercury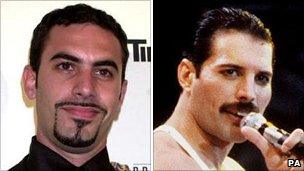 Ali G and Borat star Sacha Baron Cohen is to play Freddie Mercury in a film about Queen, the rock band's guitarist Brian May has confirmed to the BBC.
"We have Sacha Baron Cohen, which will probably be a shock to a lot of people, but he's been talking with us for a long time," May told the HARDtalk show.
Frost/Nixon scribe Peter Morgan is writing the screenplay, he added.
The film, which will focus on the period leading up to Live Aid in 1985, will begin shooting next year.
"I think we'll try and keep ourselves out of it as much as we can," May said.
Baron Cohen had been "on this project since we started talking about it seriously with Peter Morgan a couple of years ago," he added.
May and Queen drummer Roger Taylor will oversee music featured in the film, which will include songs by the band and by Mercury as a solo performer.
Graham King, of GK Films, which is co-producing the movie along with Robert De Niro and Jane Rosenthal's production company Tribeca, said Queen was "a music brand all unto itself".
"Freddie Mercury was an awe-inspiring performer so with Sacha in the starring role, coupled with Peter's screenplay and the support of Queen, we have the perfect combination to tell the real story behind their success."
Morgan, whose previous works include the Oscar-nominated screenplays for The Queen and Frost/Nixon, is already working on the script for the as-yet-untitled project.
Queen's 21-minute appearance at the Live Aid concert at Wembley Stadium featured Bohemian Rhapsody, We Are The Champions and Radio Ga Ga. It is considered to be one of the classic rock performances.
The HARDtalk interview with Brian May will be broadcast on BBC World News on Thursday 23 September and the BBC News Channel on Friday 24 September.
Related Internet Links
The BBC is not responsible for the content of external sites.