Norma Rae screenwriter Irving Ravetch dies aged 89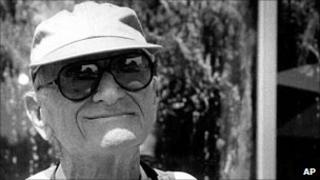 Oscar-nominated screenwriter Irving Ravetch has died aged 89, his family has confirmed.
A statement released said he passed away on Sunday at Cedars Sinai Hospital in Los Angeles of pneumonia.
Ravetch, who wrote with his wife Harriet Frank Jr, earned two Academy Award nominations for the films Hud and Norma Rae.
Sally Field won an Oscar for the latter, about the efforts of a Southern mill worker to unionise her workplace.
In a screenwriting collaboration that began with the 1958 film The Long, Hot Summer, Ravetch and Frank wrote the scripts for more than a dozen other films including The Sound and the Fury and Conrack.
They were jointly given the Writers Guild of America's Laurel Award for their screenplays.
Ravetch once wrote: "Movies can't correct human injustice all by themselves, but they can show it, they can touch you while showing it, and they can seed ideas and wake up dormant minds.
"For a medium that began - pretty much in my early childhood - as a few flickering images on a nickelodeon machine, that's pretty powerful stuff."
Director Martin Ritt bought to life eight of Ravetch and Frank's screenplays.
In an introduction to a New American Library book reprinting three Ravetch and Frank Jr screenplays, Ritt wrote: "Our whole lives are intertwined in this work, from The Long, Hot Summer, back in the '50s, on.
"I am proud of the movies we've made together and consider several among them the finest of my career."