First celebrity voted off Dancing With The Stars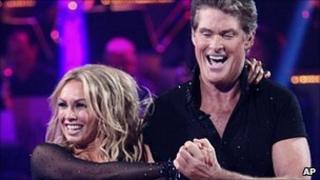 US TV star David Hasselhoff is the first celebrity to get the boot from the new series of Dancing With the Stars.
The 58-year-old and his professional partner, Kym Johnson, were voted off after performing the cha-cha.
Judge Bruno Tonioli described their routine as a "potpourri of insanity disguised as dance".
Hasselhoff and Johnson landed in last place, tied with Jersey Shore star Mike Sorrentino and comedian Margaret Cho.
"It's been a great ride," Hasselhoff said after hearing the news he would be leaving the show.
"I feel bad for Kym because she worked hard trying to get me where I was going. I'm so proud that my daughters are here and they got to see me come this far."
Bristol Palin, the daughter of former US vice-presidential hopeful Sarah, singer Michael Bolton and Dirty Dancing actress Jennifer Grey still remain in the competition.
The US show, which is a transatlantic adaptation of Strictly Come Dancing, will be broadcast in the UK on Watch from 23 September.