Home And Away ruled 'too raunchy'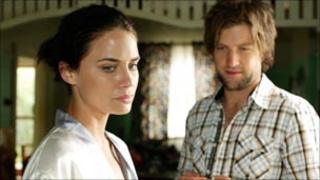 An episode of Home And Away has been ruled too "raunchy and sexually charged" for its time slot by a TV watchdog in New Zealand.
The Broadcasting Standards Authority upheld a complaint about a passionate scene in the Australian soap opera, originally broadcast in March.
Liam Murphy (Axle Whitehead) was seen kissing and undressing Martha Mackenzie (Jodi Gordon) in the sequence.
Broadcaster TVWorks said the scene "did not contain any salacious content".
In New Zealand, Home and Away has a G-rating, which means programmes may be screened at any time.
The BSA said: "We have considered the nature of the scene complained about. In our view, the scene was raunchy and sexually charged.
"The removal of Martha's bathrobe, revealing her bra, and her straddling of Liam on the kitchen table as they continued to kiss passionately went well beyond the level of sexual activity that should be included in a G-rated programme."
It also said that the broadcaster "did not consider interests of child viewers" and "did not observe standards of good taste and decency".
But, because it was the first time a complaint about sexual content against the programme had been upheld, no penalty was imposed.
The episode was shown in the UK on Five shortly after it was broadcast in New Zealand, but media watchdog Ofcom said no complaints had been received.