US man held over Vincent van Gogh sketch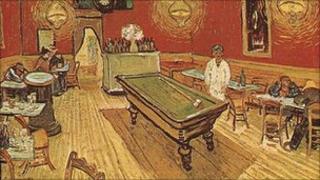 A man wanted in connection with a stolen drawing believed to be by Vincent van Gogh has been arrested in Vermont in the US.
Authorities say the Texan man is wanted for selling a $1 million (£640,000) sketch of van Gogh's The Night Cafe.
He was arrested on charges of occupying an abandoned camp, burglary and possession of stolen property.
The sketch turned up at a New Mexico antiques shop after being stolen from a home in 2009.
Police say they believe the man sold it to the shop for $250 (£160).
An arrest warrant was issued after the man failed to make a court appearance.
The original painting of van Gogh's The Night Cafe, which shows a nearly empty cafe with a few customers seated at tables, is on display at the Yale University Art Gallery.