Gary Oldman to play John Le Carre spy George Smiley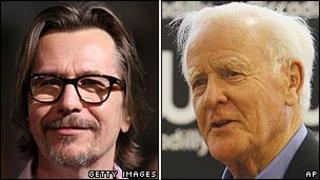 Gary Oldman is to play John Le Carre's George Smiley in a new film of classic novel Tinker, Tailor, Soldier, Spy.
Colin Firth and Sherlock's Benedict Cumberbatch will also appear in the movie, to be released in the UK in September 2011.
Set during the Cold War, Le Carre's 1974 novel tells of a retired MI6 agent drawn back into the world of espionage.
Sir Alec Guinness, Simon Russell Beale and George Cole are among the actors to have portrayed Smiley on TV and radio.
The latest adaptation will be directed by Tomas Alfredson, the Swedish film-maker best known for 2008 horror movie Let the Right One In.
Filming on the Working Title production will begin at the end of September in London and on location in Budapest and Istanbul.
"The timing is right for a big screen version of Le Carre's classic novel," said Working Title's Tim Bevan, whose other roles include chairman of the recently axed UK Film Council.
"It's great for us to have Tomas onboard who has assembled a stellar cast and will bring a unique vision to the material."
Known to millions as Sirius Black in the Harry Potter films, Oldman has forged a distinguished career both behind and in front of the camera.
The 52-year-old has memorably played Sid Vicious, Joe Orton and Lee Harvey Oswald on screen.
He also wrote and directed acclaimed 1997 drama Nil by Mouth, recipient of two prizes at the following year's Bafta film awards.