Portia De Rossi takes Ellen DeGeneres' name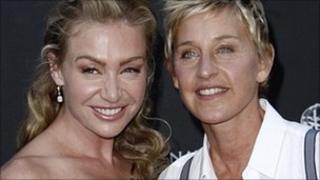 US actress Portia de Rossi has officially taken the last name of her wife, Ellen DeGeneres.
A Los Angeles Superior Court judge granted the former Arrested Development star's request to change her name to that of the chat show host.
The 37-year-old will now legally be known as Portia Lee James DeGeneres.
The couple, who began dating in 2004, married in August 2008 during a five-month window in which gay marriage was legal in California.
"I am thrilled to legally adopt my wife's name. I will continue to use Portia de Rossi for professional purposes," the new Mrs DeGeneres said in a statement.
The Australian-born actress asked for the name change last month. Neither woman attended the court hearing.
On Thursday, Ellen DeGeneres joked on Twitter: "The court granted Portia's name change. She's now officially Portia Winfrey."