Zac Efron: 'I've got a lot to learn'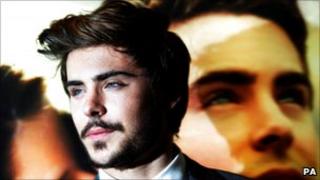 Last month, two of the most well-known people on the planet arrived in the UK on the same day.
One was Pope Benedict XVI on a four-day state visit to Britain.
The other was Zac Efron.
And while the pontiff was making headlines across the world, the normally smooth-chinned heart-throb was causing the internet to go into meltdown because he had, er... grown a beard.
Efron was in the UK to promote his new movie Charlie St Cloud (out this Friday) - a romantic drama with a hint of The Sixth Sense thrown into the mix.
He plays a champion yachtsman whose life falls apart after a car accident. The film, directed by Bur Steers, is based on the novel by Ben Sherwood.
'Bit scary'
In the flesh, 22-year-old Zac Efron is - as you might expect - achingly good looking.
It's one of the reasons why London's Leicester Square was packed with teenage girls in sleeping bags many hours before the Charlie St Cloud premiere.
"It's a big part of why I'm here and it's a big part of why my fans come to the movies," admits the High School Musical star at a press conference.
"But at the same time, it just makes me more driven to get the people who aren't so easily swayed by that sort of thing."
After the massive success of High School Musical on TV and the big screen, Efron took on a different type of role in last year's Me and Orson Wells.
He has also started his own production company, with several feature film projects in development.
All this appears to signal a more serious direction for the actor. What kind of roles does he see himself taking on in future?
"As far as growing up and picking roles, I don't really know," says Efron.
"But I'd say this turned out to be an ideal role. Working with Burr and figuring out Charlie's character - I wouldn't trade the experience for the world."
He adds: "There's nothing that's not appealing to me right now. It's just a matter of wrapping my head around it, probably ones that are a bit scary."
Twists and turns
Efron talks enthusiastically about remaking a Swedish crime thriller, Snabba Cash.
"I really like the story because it's a guy who, for very innocent reasons, finds himself in over his head - which just about explains everything in my life at this point."
Does he really feel he's in things over his head?
"Ah yeah, well sometimes, sure."
He goes on to explain what it is like being Zac Efron.
"It's exciting, the stakes are high, and I've got a lot to learn. But at the same time I feel hungry and ambitious and in no way does the task at hand feel daunting, I'm just purely trying to navigate all the twists and turns right now."
He adds: "Honestly, I'm just excited about everything right now, with the production company it's like we've really got the ball moving."
Surprisingly, it is Efron who brings up what he calls "this ugly beard".
So why grow the facial hair?
"It could be for something. I don't know, I'm just sort of testing it out. How do you know what it's going to look like if you've never grown one?"
He adds impishly: "And just to set fire to the internet."
Charlie St Cloud is released in the UK on 8 October.