James Cracknell 'lucky to be alive' after US bike crash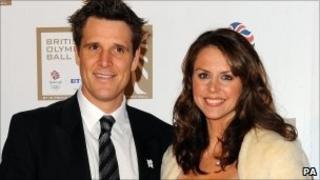 Olympic medallist James Cracknell says he is "lucky to be alive" after receiving a skull fracture in a bike accident in the US.
Cracknell, 38, suffered bruising to his brain after a truck hit his bike. He had been in the US filming for the Discovery channel.
He told the Daily Telegraph he has suffered memory loss and his personality has now altered.
He also revealed his wife is pregnant with their third child.
Mr Cracknell was shooting a new series called Cracknell's Race Across America, in which he was to attempt running, cycling and rowing across the US in 18 days. The accident was not captured on film.
He was later flown back to the UK and has been recovering in a London hospital.
'Disorientated and agitated'
Mr Cracknell said he was knocked off his bike by a petrol tanker outside Winslow in Arizona.
"When the truck's wing mirror hit me on the back of the head some of the impact was absorbed by my helmet," he said, going on to say that had his helmet not done so, he would have been killed.
"I had several MRI scans in the States that confirmed I had 'rung my own bell'.
In other words, the brain had acted like a bell's hammer, swinging forward and damaging the frontal lobes. This area controls personality, decision-making, planning, concentration and motivation.
"Although I was very disorientated and agitated for some time, just knowing I'd been hit by a truck made me feel lucky to be alive.
"This gratitude was only strengthened by seeing my fellow patients on the rehabilitation ward: stroke victims and amputees who might never regain their independence.
"Their stories really put my injuries into perspective."
Personality changes
Mr Cracknell said that later tests and conversations with a neurologist "revealed some harsh truths".
"There is a crucial window of three weeks from the accident to regaining consistent memory. Within that window a full recovery is on the cards; outside of that and there are no guarantees.
"I have 'islands of memory' but no consistency, so there are no guarantees. I can't drive and will have to be reassessed.
"I can't drink for between six months and a year as the neurons in my brain rejoin. I will never be able to work at the same pace as before or be able to grasp complex theories. Although to be honest I've always tended to steer clear of the latter."
Mr Cracknell said his vocabulary is now below average and that he is quicker to "get frustrated, lose my temper and train of thought".
He also said his flexibility of thought, stubbornness and impatience are "now in the bottom two per cent".
Baby due
He added: "Matt Pinsent took me out rowing as the neurologist thought it would redevelop my motor skills.
"At the very least, it showed us why we used to need to train for so many hours in the boat. Nobody would have thought two Olympic gold medalists were rowing past them.
"And I've gingerly taken two short rides to our local high street on a bicycle."
During his recuperation, his wife Beverley Turner discovered she was pregnant with the couple's third child.
"I'm so proud of her and our unborn child for the way they have looked after each other and I'm determined to make sure I make a full recovery to be there for Croyde and Kiki - not to mention Bev and junior," he said.