John Lennon: Still relevant?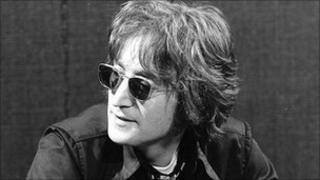 Some 70 years after his birth, and almost 30 years after he was killed, John Lennon is still a music legend. Or is he?
When his widow Yoko Ono and son Sean attracted criticism for "selling out" after letting an archive interview be used in a car advert, Sean said the ad was "not for money" but was intended to keep his father "out there in the world".
TV was the most effective way to get exposure to young audiences and keep the musician "in the public consciousness", Sean said.
So are young people really forgetting about John Lennon? We canvassed opinion from people in Liverpool who were born after Lennon died.
David Neville, 29, and wife Belinda, from Melbourne, Australia
David Neville: Mum and dad were from Liverpool. Mum went to primary school with Paul McCartney - that's how I know about most of it.
No-one lasts that long these days, popularity-wise. Most people are only popular for five years. And all bands are selling out - all the old bands are reuniting and doing their world tour.
What's the difference between Paul McCartney playing all his old songs on tour and them [Yoko Ono and Sean Ono Lennon] bringing out an interview or a song in an ad? A band's a business. What's the difference between this [The Beatles Story exhibition] having tourists coming through, and having an ad to get the message out? There's no difference. It's all keeping the music and the memory going, and the longer it goes the better.
Rachel Preston and Kim Cooper, both 21, from Liverpool
Rachel Preston (right): I don't know anything about him to be honest, other than the John Lennon Airport and getting photos before you go on holiday with the statue. That's about all he means to me to be honest.
Kim Cooper: I'm still into The Beatles. I was in Brazil and they said 'Oh you're from Liverpool' and put some Beatles on. Everybody loves The Beatles.
I know a bit about John Lennon - I know I hate Yoko Ono because she broke up The Beatles. Except I don't know too much about it, it's just been bred into me that I don't like her.
Hannah Scott, Rachel Darlow and Jessica Hawley, all 18, from Leeds
Hannah Scott (right): The Beatles are so famous that every generation's heard of them and listens to their music. A lot of my friends love The Beatles so they haven't really got old. They're still relevant - but you don't see much of footage of them.
Rachel Darlow (centre): John Lennon and all them have inspired people in music today. It's someone you've grown up with - everyone knows about John Lennon, even though we weren't alive when he was alive. In music shops there are always big posters... but you never see any footage of him.
Simon Cowell said he wouldn't sign The Beatles... but if it wasn't for The Beatles we wouldn't have all these boy bands nowadays. Seeing Pendulum at festivals and things is our version of the Cavern in 1963 - it's just how music's progressed. That's today's equivalent.
Johahn Moore, 20, from London
I'm not really a fan. I know elements of their music. They're a huge chunk of Liverpool culture, to a point where it's milked a bit.
He was a free spirit. Because I wasn't from the era when he was in his prime, I can only go from films and documentaries, and from what I've seen he was a great guy.
I like indie, dance music and dubstep. This is my time. People who grew up when John Lennon was a prominent artist and in his prime would rather listen to John Lennon now than dubstep, grime and hip-hop. But that's my era of music.
Matt Littler, 21, from Wirral
I'm not a full-on fan but I know the big songs like Imagine and... other ones.
I bought The Beatles 1 album but those songs are the only songs I know properly. I think of John Lennon as an icon of peace. That's the biggest thing that would come to me, rather than the music.
I don't think that message is still very strong - everyone's forgotten and is just into the now. There's no-one like him that everyone will know about - Bono's the closest but this generation doesn't know too much about Bono, and Bob Geldof, they don't know anything. They just think they're old people that mum and dad like.
Stephanie Lynch, 23, from Stockport and Michelle Allsup, 22, from north Wales
Stephanie Lynch (right): I love them. Ob-La-Di, Ob-La-Da - that's good. There isn't anyone who hasn't heard of The Beatles. He's got his own airport now.
Michelle Allsup: I know the famous songs from my parents. I don't really know much about his life. I just know that he had a wife called... Yoko Ono or something is it? I just know he was in The Beatles. I know him and Paul McCartney are the songwriters but I know more about Paul McCartney because he's still around. Was he anti-war or something? He was a bit of a hippy wasn't he?
Katy Field, 18, from Belfast
I prefer The Beatles as a group but not really John Lennon's individual work. When you read some of the songs that he's written, there seems to be a misogynistic undertone to some of them. Like the very last one on Revolver, it's like 'You can run little girl but you can't hide.' [Run For Your Life from Rubber Soul.] I stopped liking him after that.
I moved here on Saturday for uni. We're staying near Penny Lane. It's a huge thing in the city, with The Beatles Story and all the road signs. The Beatles Story is too expensive for us - we're students - and it's full of old people recreating their youth. And that's just sad.
Brendan Monaghan, 23, from Bootle
I know he was an absolute musical genius and a lot of bands were inspired by him, like Oasis. My granddad and my stepdad saw The Beatles. But it's more my mum and dad's type of music than mine and my friends'. I'm into Paul Van Dyk. There's not much influence going on with a set of decks.
I don't think it's as relevant now. If you asked a lot of my mates, they'd say 'He was in The Beatles' and that's about it. It's like Elvis - they're all past it now. It's a new generation now.