Wall Street sequel top of US box office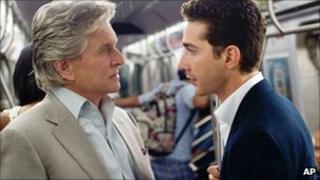 Wall Street sequel Money Never Sleeps, starring Michael Douglas, is the number one film in North America.
Oliver Stone's movie took $19m (£12m) in its opening weekend, according to early estimates.
Box office analyst Paul Dergarabedian said the figure was disappointing but high finance was "not exactly a topic that sets the box office on fire".
Animated adventure Legend of the Guardians: The Owls of Ga'Hoole opened at number two with $16.3m (£10.3m).
Money Never Sleeps sees the return of banking bad boy Gordon Gekko, played by Douglas, who spawned a catchphrase with the line "greed is good".
Shia LaBeouf, Carey Mulligan and Josh Brolin co-star in the sequel which is set amidst the financial crisis of 2008.
Mr Dergarabedian, analyst for box officer tracker Hollywood.com, added: "I think expectations were pretty high for this movie.
"That's not only an iconic character of Gordon Gekko but it's also an iconic movie."
The $19m haul represents the biggest opening weekend of Stone's career - although final, confirmed figures may put it just below the $18.7 (£11.8m) taken by World Trade Center in 2006.
Wall Street 2 also gave Michael Douglas his biggest opening weekend in a lead role, and his second-biggest overall. His career best is You Me And Dupree, which took $21m (£13.2m) in its first three days.
Ben Affleck's Heist drama The Town, co-starring British actress Rebecca Hall, dropped two places to number three, taking $16m (£10.1m).
Teen comedy Easy A also fell two places, to number four, while Disney comedy You Again - starring Kristen Bell, Jamie Lee Curtis and Sigourney Weaver - opened at number five with $8.3m (£5.2m).