How Caro Emerald dethroned the King Of Pop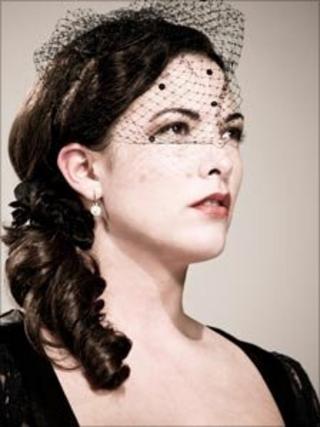 Last month, Dutch singer Caro Emerald notched up a 27th week at number one - smashing a record set 28 years ago by Michael Jackson's Thriller.
But the 29-year-old graduate of the Amsterdam conservatory of music nearly overlooked the achievement.
"I knew that going to number one as a debut artist was lucky," she explains, "but I'm not an expert on music sales".
It was only when the Dutch press began to report her victory that the news finally hit home.
"Isn't it incredible?" she asks, still slightly overwhelmed.
"It feels surreal - Thriller was made when I was two years old!"
Most recording artists would have a phalanx of advisors and press officers on hand to inform them that they'd dethroned the King of Pop - but not Emerald.
Her victory has been entirely self-made... because every single record label turned her away.
"In Holland, the record companies are all a little bit scared," she says.
"We got great reactions when we sent the music around, but they thought of us as a really big risk".
It's difficult to understand why.
With a vibrant, sassy mix of jazz, hip-hop, mambo, swing and pop, Emerald's debut - Deleted Scenes From the Cutting Room Floor - is decidedly commercial, nestling neatly beside the showgirl vibes of Paloma Faith.
Emerald is instantly recognisable, too, like a modern version of Jane Russell or Bettie Page, sultry eyed and bedecked in elaborate antique jewellery.
Impatient
She was born and raised "in a very intellectual family" in suburban Amsterdam. "My dad is a philosopher and my mum was a secretary at the university," she says.
There was no pop music in the house, "only classical", and while her elder siblings learned to play the flute and piano, Caro was "too impatient for it".
She discovered her voice when a teacher gave her a singing role in a school play he'd written, which featured local translations of popular chart songs.
"Mine was a Dutch lyric to Dream A Little Dream Of Me, by the Mamas and the Papas," she recalls.
"Afterwards, I clearly remember him saying to me that I should go and study jazz in the conservatory.
"I was very impressed by him saying that. I never got it out of my head."
Heeding his advice, she successfully applied for a place at Conservatorium van Amsterdam as a teenager.
She studied jazz singing, shunning "free jazz and be-bop" for "the classics - Ella Fitzgerald, Billie Holliday and Sarah Vaughan".
Emerald graduated under her real name, Caroline Van der Leeuw, in 2005 and eked out a living as a performer, joining a close harmony vocal group and the fantastically-named Philharmonic Funk Foundation, a 44-strong funk orchestra.
But it was a call from two producers that changed the course of her career.
Jan van Wieringen and David Schreurs had written a song called Back It Up - a bouncy, xylophone-powered pop samba - with the hope of selling it to an established act, but they needed a vocalist to lay down a demo vocal.
"I was singing the song in their home studio and they were thinking, 'wow this is a good match'," Emerald recalls.
"We liked it so much that we decided to make it our own sound and write an entire album in this direction."
The glamorous Hollywood musicals of the 1940s and 50s proved to be a big inspiration - with swinging big band numbers informing both the sound and the lyrics.
'Big mess'
An album was completed in early 2009 and the trio started scouting around record companies - but to no avail.
"Some labels really believed in it, but they came up with very bad plans for marketing it - so we thought we'd better do it ourselves," Emerald says, "and that was the greatest decision we ever made".
It was a struggle in the beginning, she admits, as he had to act as her own agent, tour manager and publicist.
"Even when Back It Up was a big radio hit, I was organising the band, the rehearsals, the bookings, the gigs, everything," she laughs.
"It was one big mess, the first half year".
The hard work paid off, however, resulting in two number one singles and that record-breaking album - which has now sold in excess of 170,000 copies at home.
Emerald credits her success to the homespun approach.
"You're in such a different place if you attract a record label," she says. "If they give you £20,000, then the people you hire will just spend it.
"It should be the other way around - the music should be good, and then you decide on whether you want to spend money."
Having established herself at home, Emerald has set her sights on Europe. True to form, she has chosen a small boutique label - Dramatico, home to Katie Melua - to put the album out in the UK.
"For the whole music industry in Holland this has been an eye opener," she admits.
"This has had such a big breakthrough, and the number of sales haven't happened in years - but no big label was interested."
"But it was so much fun to build it up by myself, and to know what I've achieved."
Back It Up is out now. Deleted Scenes From The Cutting Room Floor will be released on 18 October.