Joe McElderry on life after the X Factor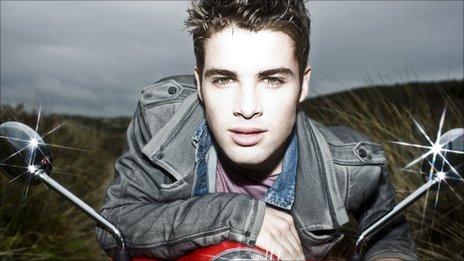 Over the last year Joe McElderry's life has completely changed.
The 19-year-old former student has turned his back on college after winning last year's X Factor, and became a pop star overnight.
Since then, the softly-spoken Geordie has scored a number one single, come out in the press and had regular text conversations with Cheryl Cole.
After a year in the studio, he has released his new single, Ambitions, which has a slightly different sound than his fans might have expected.
A cover version of a Norwegian number one, by electropop band Donkeyboy, it was given a timely boost when McEdlerry appeared on the first live show of the 2010 X Factor series.
The singer spoke to the BBC a few days before that performance.
Hi Joe, has Cheryl or Simon Cowell been in touch about your new material?
No I don't think she's heard it yet because she hasn't texted me, but she will.
And Simon is always in the office and I've seen him a few times. He loves it. They're both lovely people, genuine, lovely, down-to-earth people.
Have you actually got their mobile numbers?
Yes, but I have to have them in different names in my phone, because my friends are like: 'I'm so going to go in your phone and work out who they are'.
You're set to return to the X Factor soon to perform, are you going to be singing live?
Of course I am. How could I come off a show like the X Factor and not sing live?
How are you feeling about going back to the show that made you famous?
I'm so excited, like I can't wait to get back on it. I'm nervous and I'm feeling really under pressure about it, but a good kind of pressure.
I kind of thrive off the pressure to be honest because it keeps us on our toes and it keeps us working hard.
When you win the show, do label bosses prime you to meet scary journalists?
You might find this hard to believe but I actually haven't had any [coaching] and that's the God's honest truth.
You don't really necessarily get media training, I think the X Factor is the media training, a bit like an apprenticeship in the media industry.
You have to deal with the negative press, the positive press, the paparazzi, people shouting at you in the street, so that's the kind of media training. I haven't been sat in an office and told what to say.
You've had a recent brush with the press, as you revealed you're gay in a newspaper - why?
I'd had a couple of weeks off, I had a bit of time and I just realised who I was as a person and was comfortable in my own skin.
Did the Sun newspaper approach you about it?
No not at all, we went to them, there was no stories that were going to come out or anything like that, it was all honest and truthful.
I was surprised it was on the front page of the news because personally I don't think it's newsworthy.
But there you have it. It was a big deal for me, but I don't think it was necessarily for anybody else, because it's not their own personal situation.
What would you say to anyone who thinks it might just have been a clever PR stunt to get publicity for your single?
It would be a bit of a silly PR stunt wouldn't it? It's a very personal situation to make a PR stunt.
What's the best and worst thing about fame?
Fame has its advantages and disadvantages and I think it's based on how well you deal with it.
I can go out in the street and not be noticed. If you keep your head down and are chilled out about it, then not many people notice, but if you want people to recognise you, it's possible.
The best thing is all the free stuff you're given. I've had two laptops, loads of clothes, digital cameras and loads of TVs.
Your new single is called Ambitions, describe what it sounds like?
It's a very up-tempo, poppy song and it's really exciting to be honest, it's a totally different style to what I'm used to singing.
I was expecting to come back with a ballad to be honest, but it got to the point where we were recording and nothing was really grabbing anybody's attention.
I got into the studio and tried this sound and here we are now with the single in a totally different direction to the album.
Why is your new album called Wide Awake?
Because one of the songs on the album is called Wide Awake.
The other reason is the past year has been like a wake-up call.
It has been so crazy that I really feel wide awake with everything that is going on and I also think the album is such a feel good album that hopefully when you listen to it you'll feel inspired and kind of wide awake.
Joe McElderry was talking to BBC Entertainment reporter Fiona Bailey
Ambitions is out now, followed by the album Wide Awake on 25 October
Related Internet Links
The BBC is not responsible for the content of external sites.