Critics sing Birdsong's praises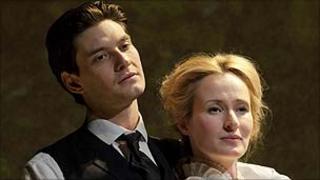 A stage version of Sebastian Faulks's best-selling novel Birdsong has opened at the Comedy theatre in London's West End.
The play, which charts one young man's journey through the horror of World War I, is directed by Sir Trevor Nunn and stars Ben Barnes of the Chronicles of Narnia fame.
Published in 1993, the book has been adapted by Rachel Wagstaff.
Her previous work includes a play about the celebrated war poet Rupert Brooke.
The Guardian's Michael Billington praised her adaption, saying it "captures something of the unimaginable horror, as well as the fractured comradeship, of the first world war.
"In the space of three hours," he continued, "it gives us an effective summation of the story and captures both the pain and the pity of a war that almost defies comprehension."
The Independent's Michael Coveney was equally complimentary, lauding a production that "poignantly intermingles ghosts of past and present."
"There's a great moment when the soldiers climb ladders for the start of the Battle of the Somme, stuck to the mud and grime like limpets in helmets, ready for destruction."
In the Times, however, Libby Purves expressed reservations, saying she "found it difficult to engage fully".
In the Daily Mail, meanwhile, Quentin Letts declared it "a noble failure", adding that Barnes was "a disappointment" as soldier hero Stephen Wraysford.
"This character should be an imponderable well, not a fringe-flicking prima donna," he wrote. "Fewer histrionics, please."
Yet he did conclude that "the arrival of Birdsong on the West End is to be welcomed, despite its flaws."
Birdsong continues at the Comedy until 15 January.