Radio 1 boss defends Chris Moyles' on air pay rant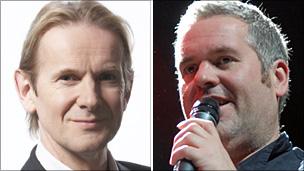 Radio 1 boss Andy Parfitt says he has not reprimanded DJ Chris Moyles for an on-air rant about his pay.
"For me, it was a question of deciding whether he had overstepped the red lines or not. In my judgement, he hadn't," Mr Parfitt said:
But speaking at the Broadcasting Press Guild breakfast, he admitted it "wasn't the best" show he had ever heard.
In a 20-minute tirade on his breakfast show last week, Moyles revealed he had not been paid for two months.
"I'm very, very angry for being put into this position," he said. "I haven't been paid since the end of July and no-one cares about it," Moyles told his audience.
The 36-year-old, who signed a new contract with the BBC in July, said he had considered skipping work, adding: "If they can't be bothered, why should I bother?"
He name checked Parfitt, as well as BBC Director General Mark Thompson, during the segment.
But the station controller said Moyles had not been censured.
"I did not give him a talking to in the sense that I told him off," Parfitt said.
"I reserve the sanction and authority I have for when my judgement is that he has gone over the line. In this case I did not think he had.
"That's what Chris does every day. His show is a long-running soap opera," he added.
Meanwhile, Mr Parfitt also revealed the station was aiming to introduce a Panorama-style show aimed at its youth audience.
A new, monthly daytime show would examine "big issues", the controller said.
"We're going to work with BBC News to see if we can provide a regular long-form single-issue programme, a Panorama for young people," he said.
"This is to be confirmed but I'm working with them to see if, once a month, we can put together something of real substance in daytime to complement the Newsbeat offer."