Royal Court hit Clybourne Park moves to the West End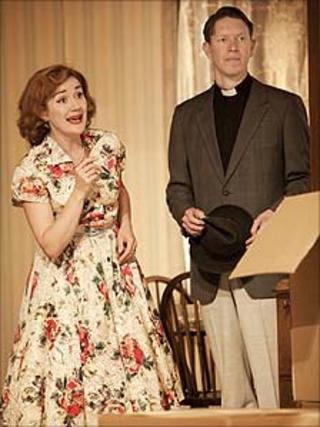 Hit satire Clybourne Park, which has enjoyed sell-out success at London's Royal Court, is to transfer to the West End next year.
But the play will continue without actor Martin Freeman, whose role will be recast when the show moves to Wyndham's Theatre in January.
Directed by Dominic Cooke, the two-part plot revolves around a house in Chicago being sold in 1959 and again in 2009.
It was hailed by the Daily Mail as "a sparky satire on modern race manners".
The BBC's arts editor Will Gompertz was equally complimentary, calling it "an excellent play that has been superbly produced".
Freeman, recently seen as Watson in the BBC's contemporary drama Sherlock, has been prevented by prior commitments from remaining in the show.
However, all the other current cast members - among them former EastEnders star Sophie Thompson - will be in the play when it transfers.
American writer Norris had an earlier success at the Royal Court in 2007 with The Pain and the Itch.
Clybourne Park was first seen in February at the New York off-Broadway theatre Playwrights Horizons.
The play's run at the Royal Court in west London ends on Saturday.