Father Jack actor Frank Kelly joins Emmerdale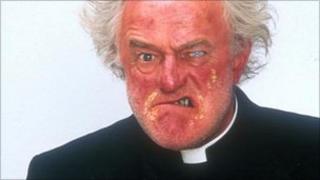 Father Ted star Frank Kelly - the comedy's foul-mouthed priest Father Jack Hackett - is joining ITV1 soap Emmerdale, producers have announced.
Kelly, 71, is swapping Craggy Island for the Yorkshire Dales to play Dermot Macey, the father of Declan, played by Jason Merrells.
The actor is known for Father Jack lines including "drink" and "girls".
But his new character is "a pretty cool dude", he said. "He's not that kind of guy. He wouldn't swear."
The Irish star, who appeared briefly in 1969 film The Italian Job, can be seen in Emmerdale from December.
His other screen roles include playing the late Labour leader John Smith in Channel 4 political drama The Deal.