News presenters warn over BBC strike plan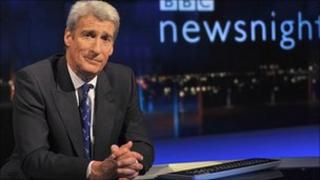 News hosts including Jeremy Paxman and Huw Edwards have said they are worried about planned BBC strikes during the Conservative party conference.
In a letter to the National Union of Journalists (NUJ), BBC political staff said they had "serious concerns" about holding the 48-hour industrial action.
They warned the move threatened the impartiality of the corporation.
Union members are due to strike on 5-6 October in protest against proposed cuts to the BBC's pension scheme.
The 36 signatories said holding the strike during the party conference, including on the day of the Prime Minister David Cameron's keynote speech, risked "looking unduly partisan".
"Impartiality is the watchword for the BBC's political coverage and we would not wish to give a misleading impression that this is no longer something we value highly," it said.
It added the letter was not a disagreement with the principle of strike action, but signatories said they had been unable to attend meetings about the proposed strike because they were working at other party conferences.
Other high profile names that signed the letter included Jon Sopel, Emily Maitlis, Today's James Naughtie and political editor Nick Robinson.
'Tiny minority concern'
NUJ general secretary Jeremy Dear said the choice of strike dates "was not a political act" and represented the views of "thousands of members"
"The dates were chosen by elected reps because they are major broadcast events and for no other reason," he said.
Responding to the letter, Ian Pollock, chair of the NUJ's BBC London branch, said the letter conveyed "a tiny minority concern" and noted that 11 of the signatories "do not appear" to be members of the union.
He said: "If you have any better tactical suggestions for conducting the strikes then all NUJ representatives will be glad to hear them.
"But I have to tell you that taking Shaun the Sheep cartoons off air will not cut the mustard."
A second 48-hour strike is planned for 19 October, which would hit BBC coverage of chancellor George Osborne's spending review announcement.