Melvyn Bragg to front BBC Two history series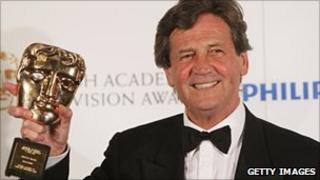 Broadcaster Melvyn Bragg is to present a new history series for BBC Two telling the story of life in Britain through film, it has been announced.
The Reel History Of Britain will use collections owned by the British Film Institute and regional film archives, with some unveiled for the first time.
Throughout the series, Bragg will tour the country in the UK's only surviving 22-seat vintage mobile cinema.
Lord Bragg said viewers will "glimpse a world long gone" when it airs in 2011.
The series will trace descendants of those featured in the movies, which include social documentaries, tourist information films, newsreels, and government propaganda films.
"Most of this unique footage has never been seen before, but now, more than one hundred years later, we can share the many secrets of this forgotten archive," said Lord Bragg.
"I'm going to explore some of the most remarkable events of British history as captured on camera.
"Reaching back into the 20th century, this is an absorbing and entertaining insight into how we became who we are," he added.
In July, Lord Bragg announced his South Bank Show awards were to continue on the Sky Arts channel after the long-running arts show was axed by ITV last year.