Tributes paid to 'fine actor' Tony Curtis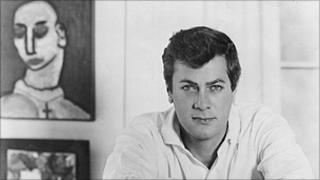 Tributes are being paid to Hollywood star Tony Curtis who has died at his US home in Nevada aged 85.
Sir Roger Moore, who worked with Curtis on 70's TV series The Persuaders!, called him "a fine actor".
He added: "He was great fun to work with, a great sense of humour and wonderful ad libs."
Curtis's daughter Jamie Lee Curtis praised her father saying he "leaves behind a legacy of great performances in movies and in his paintings".
"He leaves behind children and their families who loved him and respected him and a wife and in-laws who were devoted to him. He also leaves behind fans all over the world," she added.
His widow Jill said: "All Tony ever wanted to be was a movie star. He didn't want to be the most dramatic actor.
"He wanted to be a movie star, ever since he was a little kid."
The Oscar-nominated actor, who starred in Some Like it Hot opposite Marilyn Monroe, passed away peacefully in bed, a family spokesman said.
The star received an Oscar nod in 1959 for The Defiant Ones, in which he starred with Sidney Poitier.
His career spanned six decades and he made more than 120 films including Trapeze, Spartacus and The Vikings.
'Wonderfully indiscreet'
Clark County coroner Mike Murphy told the Associated Press that the actor died at 2125 local time on Wednesday.
Debbie Reynolds, who starred alongside Curtis in The Rat Race and Goodbye Charlie, paid tribute to his versatility.
"Tony had that kind of talent that he could do comedy and tragedy as equally as important.
"He loved painting, he loved music. Tony loved life, he loved beautiful women, he had a wonderful time."
Sir Michael Parkinson, who interviewed Curtis several times, said the star's performance in Some Like It Hot would live forever.
"Some Like It Hot is one of the greatest comedies of all time," he said.
"Billy Wilder did not suffer fools, so for Tony Curtis to work with him and make that film shows just how good he was. He was an extraordinary man.
"Hollywood tried to make him into a sex symbol in the 1950s and 1960s but he was his own man.
"He was a great chat show guest and was wonderfully indiscreet but he was very bright and did not take himself too seriously," he added.
Actress Estelle Parsons remembered the actor as "amazingly funny" and "too handsome to be true".
"He always had a good looking woman on his arm," she added. "Always. Even at rehearsals."
Governor of California and actor Arnold Schwarzenegger, who directed Curtis in the 1992 TV movie Christmas In Connecticut, said: "Tony Curtis was a Hollywood icon, a great performer and artist and devoted family man.
"I saw his extraordinary talent and ability to inspire generations of Americans firsthand on the set of Christmas in Connecticut, and will always remember our times together."
Sam Rockwell, who starred alongside Curtis in the 1998 flim Louis and Frank, called the star "a sweetheart, beautifully neurotic in a very endearing kind of Woody Allen way."
He is survived by his wife, Jill Vandenberg Curtis, and six children.