Willem Dafoe to take part in the Manchester Festival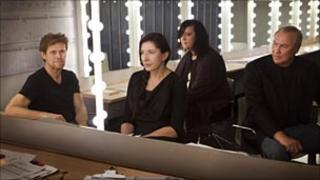 Oscar nominated actor Willem Dafoe is the star attraction for this year's Manchester International Festival.
The Platoon actor will appear in a play called The Life and Death of Marina Abramovic, which also stars the titular performance artist.
The production will feature music written and performed by Antony Hegarty from Antony and The Johnsons.
A play written by Victoria Wood will also be showcased at the event which starts on 30 June, 2011.
That Day We Sang tells the story about Manchester Children's Choir in the 1920s.
The production, which Wood is directing, will open at the Manchester Opera House.
"We remain dedicated to supporting great artists to realise their most ambitious work," said festival director Alex Poots.
"We are working with artists from all over the world and right across the spectrum of art and culture, beginning new relationships with some and deepening existing partnerships with others."
The Life And Death of Marina Abramovich examines the life of the notorious performing artist, and will have a five-night run at The Lowry Theatre.
Written and directed by Robert Wilson, it features scenes from Abramovic's life and career, from her Serbian childhood to her groundbreaking works of living art.
Organisers for the event say the show will "bring together the worlds of theatre, art and music to thrilling effect".
Manchester International Festival, which began in 2007, is described by organisers as "the world's first festival of original, new work and special events" and takes place from 30 June until 17 July 2011..
Tickets for all three shows have now gone on sale.