Turner artist Gillian Wearing premieres debut film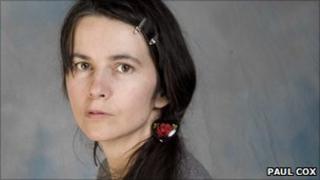 The first full-length film by Turner Prize-winning artist Gillian Wearing has its UK premiere this weekend.
Wearing's debut feature, Self Made, merges the real and imaginary lives of seven members of the public.
The artist, who won the Turner Prize in 1997, cast her film via an advert which read: "Would you like to be in a film? You can play yourself or a fictional character. Call Gillian."
Self Made shows at the Abandon Normal Devices festival in Manchester later.
The advert received hundreds of respondents, from whom seven were chosen.
Self Made shows how they explore their fantasy selves with the help of a drama teacher. The results often make uncomfortable viewing.
"It's new territory for me," Wearing told the BBC. "I've never worked in film development. Four years is supposedly not such a long time, but when you make a short art film you can do it in a year."
One of Wearing's Turner Prize-winning pieces was 60 Minutes Silence - in which 26 police officers are shown trying to remain still for an hour.
Self Made came about after Wearing was approached by the UK Film Council who were looking to fund an experimental film.
She held auditions in 2007, but the actual project was not greenlit until the end of 2009.
Wearing said of her feature film experience: "The biggest thing you learn is about structure, making sure everything flows."
Her step into big-screen films follows recent examples from fellow artists Sam Taylor Wood (Nowhere Boy) and Steve McQueen (Hunger).
She said she was grateful to the recently-axed UK Film Council for the opportunity to make the film.
"They were very good with me and very supportive. They were opening up the door for cinema to be experimental. Cinema needs to be all things."