Earlier start for Evans's radio show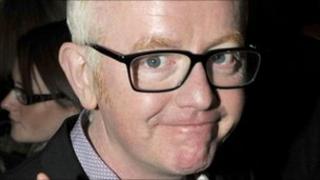 Chris Evans's weekday BBC Radio 2 Breakfast show is to start half an hour earlier, at 0630 BST, from 11 October.
The station's controller Bob Shennan said: "Chris has proved so popular with listeners that it makes sense to give him a little extra time, even though he'll have to move his alarm clock."
Evans added: "Less sleep but no matter - more music, more fun and more coffee very much required. Oh and of course extra yoga and meditation."
The show will still end at 0930.
Evans's show was launched in January, when he replaced Sir Terry Wogan who had been on air for 27 years.
He lost just over one million listeners in the three months before August, according to industry body Rajar, with 8.48 million listeners a week.
It was down from the previous quarter's record 9.53 million, but still higher than his predecessor, who broadcast from 0730 to 0930 each day.