Lady Gaga duets with Yoko Ono at US concert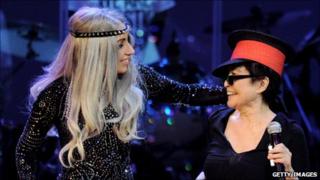 Pop star Lady Gaga joined Yoko Ono on stage to perform two songs at the end of a three-hour gig from the Plastic Ono Band in Los Angeles.
The Poker Face singer, 24, paid tribute to Ono, 77: "Thanks for being so brilliant and such an inspiration to so many women."
The pair ended the evening lying next to each other on the top of a grand piano.
Ono's late husband John Lennon founded the Plastic Ono Band in 1969.
Their son Sean Lennon is now the musical director.
The concert comes ahead of a weekend of celebrations planned for Saturday 9 October, which would have been John Lennon's 70th birthday.
Ono is planning a series of peace-promoting events in Iceland that day and will light the Imagine Peace Tower, as she does every year on that day.
The tower was unveiled in 2007 near Reykjavik as a memorial to John Lennon from his wife.
It is inscribed with the words: "I dedicate this light tower to John Lennon, my love for you is forever, Yoko Ono."
That will be followed by the Plastic Ono Band playing a special concert.
A special edition guitar is also being created to tie-in with Saturday's celebrations, at the request of Ono.
The Gibson guitar factory in Montana will release a limited number of J-160Es, the model of guitar Lennon played.