Tate Britain backs down in photographer row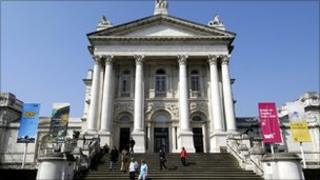 Tate Britain has backed down in a row with photographers who had boycotted the launch of this year's Turner Prize.
Photographers had refused to attend the art exhibition after being asked to sign a form banning any images or words being published which could "result in any adverse publicity".
However, a Tate spokeswoman said on Monday that photographers would be allowed into the London launch without signing the contract.
She added the form would be reviewed.
The contract also gives the gallery permission to "copy, reproduce, record, store and disseminate" the photographer's work without paying royalties.
Among the photographers who boycotted the event included staff working for the Evening Standard, Reuters and the Press Association.
The Times' Richard Pohle, who had refused to photograph the launch, said: "We are not prepared to sign a contract that leaves us open to being sued by the Tate if our pictures are used next to an article that criticises the gallery."
A painting of the scene where scientist David Kelly died, a recording of a Scottish folk lament and a collection of broken canvasses laid on top of each other are among the artwork featured in this year's Turner Prize exhibition.
Artist Dexter Dalwood, Angela de la Cruz, Susan Philipsz and The Otolith Group are all in the running for the £25,000 award.