Judge reveals reason for Top Gear's Stig ruling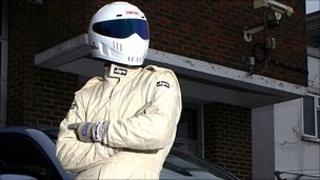 A judge has explained his decision for refusing to ban a book revealing the identity of Top Gear's The Stig.
Mr Justice Morgan said he would not grant the BBC an injunction blocking Ben Collins's autobiography at a private hearing last month.
The BBC claimed its publication would breach confidentiality obligations.
But in a public ruling today, the judge said the identity of Mr Collins was already in the public domain due to press coverage.
The autobiography, titled The Man In The White Suit, was published by HarperCollins on 16 September.
Rival show
Mr Justice Morgan added that while Mr Collins, 35, did owe a duty of confidentiality to the BBC, the identity of Top Gear's mystery driver was so generally accessible that it could no longer be described as confidential.
"In the present case, the identity of Mr Collins as The Stig is in the public domain," he added.
"If that has caused and/or will cause harm to the BBC, I do not see how any further harm will be caused to the BBC if Mr Collins is not allowed to publish his autobiography in time for the 2010 Christmas market."
Mr Collins, a former stunt double, has now joined rival show Fifth Gear, where he will be seen without his trademark helmet.
He is set to make his debut this week on the Five programme.