Mr Nice set 'was a no-smoke zone'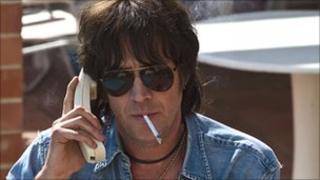 The director of biopic Mr Nice has revealed several scenes had to be faked due to the UK's strict smoking laws.
Mr Nice tells the story of the rise of drug smuggler Howard Marks (played by Rhys Ifans) and his eventual imprisonment in the US in 1988.
"In Wales, where we shot half the film, it is illegal to smoke a cigarette on a movie set," said director Bernard Rose.
"So in Wales we had very elaborate special effects devices to simulate smoking, I kid you not!"
He added: "All the smoking close-ups we shot in Spain, where it's perfectly legal."
The film, released in the UK on Friday, is based on Howard Marks' best-selling autobiography Mr Nice, written after his release on parole in 1995.
'Very dangerous'
Although he stopped short of condemning Marks's drug-infused lifestyle, Rose rejected accusations that his film glamorised narcotics.
"It worked really well for [Marks] until the point when it didn't work and the chaos overtook his life, and it caused a tremendous amount of harm and pain to himself and to his family.
"I think the film doesn't shy away from that. There's nothing glamorous about spending seven years in a federal prison in Indiana."
Rose added: "Personally I think smoking marijuana is very dangerous and it's something I don't do, but I also feel the same way about alcohol, I don't drink that either.
"On the other hand, you can't tell lies about drugs or alcohol or heroin or crack cocaine - you can only show what happens, and to do anything else is, in a sense, to disrespect the issue."
As well as Rhys Ifans in the lead role, the film also features Chloe Sevigny, David Thewlis and Omid Djalili.