Olympic luge death: 'Lack of experience' played a role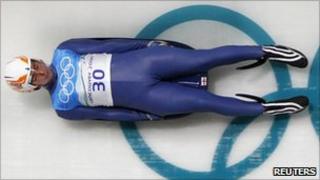 A "relative lack of experience" played a role in the death of the Georgian luger who died during a training run before the 2010 Vancouver Olympics, a coroner's report says.
The document says Nodar Kumaritashvili, 21, died immediately when he smashed into a steel pole after flipping his sled at the Whistler Sliding Centre.
The report, issued 235 days after the crash, calls the death accidental.
Mr Kumaritashvili hit the unpadded pillar at 90mph (145kph).
"The relative lack of experience Mr Kumaritashvili had on this challenging track set a backdrop for the incident and was a significant disadvantage, as far as safety was concerned, for the athlete entering the high pressure environment of the Olympic Games," said coroner Tom Pawlowski in his report.
Mr Pawlowski also wrote in his report that a letter written by International Luge Federation (FIL) President Josef Fendt said the newly built Whistler track "was not supplied as ordered".
But Mr Fendt's letter did not go as far as to ask Vancouver Olympics officials to investigate track speeds for the Olympic Games.
The British Columbia Coroners Service recommended "a comprehensive safety audit of the Whistler track" and is asking governing bodies to more thoroughly examine the design, construction and certification of luge, bobsled and skeleton tracks.
No remaining investigations are scheduled into the crash, which took place on 12 February.
A deadly run
Mr Kumaritashvili's sled struck the inside of the track's last turn during his sixth and final training run, sending his body into the air and over a concrete wall.
His sled remained on the track, and the visor from his helmet continued down the ice.
Medical staff at the track and doctors at a local hospital tried to resuscitate Kumaritashvili, part of a seven-strong Georgian team, but the country's Olympic delegation later confirmed he had died as a result of his injuries.
Luge officials had shown concern over the Whistler track before the Olympics, saying the speeds luge athletes were reaching were far higher than those the designers predicted were possible.
More than a dozen lugers crashed on the track during the first two days of training.
"I think they [lugers] are pushing it a little too much," Australian luge athlete Hannah Campbell-Pegg said on 11 February after coming close to a crash in training.
A report issued by the FIL in April said a top speed of 136kmh (85mph) was expected on the Whistler track, but the actual top speed recorded was 153.98kmh (96mph).