Sir Norman Wisdom: Your memories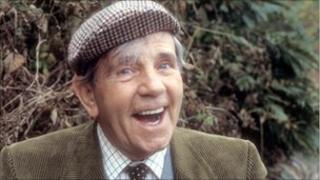 Comic actor Sir Norman Wisdom has died, aged 95.
Sir Norman, who was famous for his slapstick film roles in the 1950s and 60s, passed away after suffering a series of strokes over the past six months.
BBC News website readers have been sharing their memories.
Fantastic man and great comedian. I'll never forget when I sold him a push bike. I loaded it into the back of his VW Polo on one of his shopping day trips from the Isle of Man. To thank me, he performed his classic sketch and fell down a flight of stairs in front of my very eyes! Adrian Mason, Hinckley
I met Sir Norman about eight years ago when I was working at Sainsbury's in Epsom. He was being interviewed by our magazine and I accompanied him round the store where I was a deputy manager. He was as funny, gentle and charming as you would imagine, pretending to stumble and talking to children and parents in his trademark cheery way. Alex Motley, Godalming, Surrey
I collect celebrity autographs and wrote to Norman asking for his autograph. His assistant rang one day and I got to have a lovely chat with Norman on the phone. He was always so kind and signed numerous items for me to put in charity auctions. A very lovely man. Lisa Lighten, Essex
He was the best slapstick comedian in the business and as a child I grew up watching his films on TV, which was on most other weekends. I would have loved to have met Norman Wisdom and he will be remembered for a long time by many people. Rest in Peace. Dean Mitchell, Nottinghamshire
I have fond childhood memories of watching Sir Normans films and laughing so hard my ribs hurt. I hope St Peter is having a jolly good laugh now with Norman. John, Harwich, Essex
I met Sir Norman in 2003 outside Manchester Airport. We saw an elderly gentleman acting the fool and walking along the edge of a kerb, holding his arms out to balance himself. I realised it was Sir Norman and went over for a picture and an autograph. He was a real gent and had no problem posing for pictures and seemed like he still enjoyed entertaining people. He was a lovely man, and to meet him was a real honour. Stephen Peachey, St Helens
When I started out as a journalist I went to see Norman at Clacton during his live performances and sent a note backstage asking if he'd spare me time for an interview. A few days later he rang me at home and kindly offered to let me interview him at Lowestoft. He was a real charmer and I am so grateful to him, both for his kindness and in helping launch my career. Small he may have been, but he was a great man with a deep affection for his audiences. One of Britain's true greats. Steve Lawson, Colchester
I met Norman after a show in Norwich. He was very tired but he was really lovely. We even wrote to each other for a little while. His films never fail to make me laugh. I will miss him so much. Kirsty Nunn, Norwich
I met Norman Wisdom at a garden party in the 1970s and I still have a faded black and white photo of us together. He was utterly charming, humble and a true gentleman. We also were lucky to see his show in Douglas that summer. It was brilliant. What a professional and a great crowd pleaser. Lucy M, London
I met Sir Norman a number of times, starting when I was a child of 12. I wrote him a letter saying I'd be seeing him at my local theatre and would wait at stage door afterwards. It was pouring with rain and at the interval an usher found me and told me Mr Wisdom didn't want me getting soaked. At the end of the show the usher took me back stage where I spent 20 minutes talking to him. He never forgot his horrid childhood and was thankful to his fans who gave him a better life. A gent and a legend. Jonathan Manners, London
Overseas
As a young boy growing up in Cyprus in the early 1960s my family had limited access to television. Fortunately when the local Greek station in Nicosia managed to broadcast a program in English it was usually one of Sir Norman's hilarious films from the 1950s. As an American kid, I was familiar with Chaplin and the Three Stooges whose slapstick antics kept my father, two brothers and me in stitches. But the endearing quality of Wisdom's humour set him apart and made his performances not just funny, but also touching. Christopher Redo, Chula Vista, California, US
I loved watching Norman while I was growing up and still love his films today. Such a lovely man who never failed to put a smile on my face and sometimes a lump in my throat; one of my favourite scenes is when he sings "Don't Laugh at Me ('cause I'm a fool)". Mick Morley, Deerfield, US
Thank you Norman for all the laughs. Happy memories of the Flea pit Saturday afternoons. Don Parnall, Las Vegas, US