UK television show exports up 9%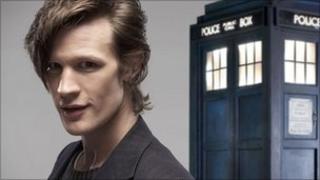 British TV shows including Doctor Who and Hell's Kitchen helped generate £1.34bn in overseas sales last year, research by the Producers Alliance for Cinema and Television (Pact) shows.
The UK TV Exports Survey showed that sales rose by 9% in total.
Finished programming - the UK's largest source of TV income - earned the industry £549m.
Format sales, where broadcasters buy rights to a show and make their own version, rose 25% to £119m.
The likes of Britain's Got Talent, Strictly Come Dancing, Dancing on Ice and Spooks have all been re-made into successful versions in other countries.
The survey also revealed that revenue from producing UK formats abroad, where a UK-based company makes a local version for a foreign broadcaster - for example I'm A Celebrity... Get Me Out of Here! - more than doubled to £41m.
Exports to the USA, the UK's largest market, represented 41% of the total export revenue, rising 3% to £485m.
BBC productions had a successful year - Top Gear was sold to 170 countries while natural history programme Life was sold to 158.
Big earning ITV productions include Come Dine with Me, Four Weddings, which the broadcaster produces for Channel 4 and Living TV respectively.
ITV's flagship drama Coronation Street is also shown in more than 40 countries, including Canada, where it is the number one soap opera.
Pact council member Chris Bonney said: "2009 was one of the toughest years for the media industry, so to see an increase in exports is testament to the popularity of British shows all around the world."
Distributors and production companies from around the world were contacted as part of the survey, which was sponsored by BBC Worldwide, ITV Studios Global Entertainment and UK Trade & Investment.
Comedy, crime and factual programming were identified as key areas of UK expertise, however international sales were hindered by the low number of episodes per run produced for the UK market and a shortage of returning series.