Mohombi: Life, Loss and Lady Gaga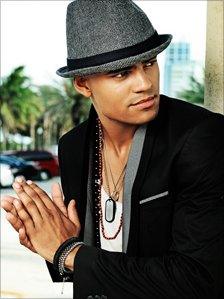 From the war-riddled landscape of Congo to the suburbs of Stockholm, singer-songwriter Mohombi's dreams to make it in the music business have come true.
The 23-year-old has signed to Swedish producer RedOne - who is largely credited with making Lady Gaga the star she is today.
Mohombi's debut album, featuring guest spots from rapper Nelly and Pussycat Doll Nicole Scherzinger, is set for release early next year and will feature tracks such as Bumpy Ride.
Hi Mohombi, your first single was recorded with Nelly, what was it like working with him?
I'm really really honoured. The fact that he got to hear the song and took his time to write to it and record it. The timing is perfect. Nelly is coming back hard and he's bringing me with him.
He's a really nice guy. He's one of the nicest guys in hip hop that I've met. He's really down to earth.
You describe your music as having the "Afro-Viking vibe" what does that mean?
It's something that I came up with my brother, which describes us really well. Being an Afro-Viking is belonging to two completely different cultures, being 100% bi-cultural.
Tell me a bit about your background - you've moved around a bit - why?
I was born in the Congo in a big family - we are 15 kids. So being one of the youngest, I definitely had to stand out, I had to find my place in all the mess. I was always the entertainer in my family.
The war started in 1997 so my parents decided to send us kids to Sweden - where my mother is from - to continue our education.
My parents stayed in the Congo because they had their whole life there and me and my two brothers went to Sweden, which is our second home. Once we got there, me and my brother started a band.
You were discovered by RedOne, how did that happen?
One day I decided to move to LA as a songwriter and I basically moved into the same building as the RedOne team.
There was a bunch of young guys from Sweden and we just connected. One day, they told me RedOne was in town and they wanted me to meet him. I played my stuff and he totally got the picture, he understood the vision that I had been working on for 12 years.
Finally, I had found someone who didn't want to change me as an artist and who wanted to develop me and let me bloom as I am. He told me the whole world was ready for my sound and he was going to make me a superstar.
Do you want to follow in Gaga's footsteps?
It's really hard to compare me to other artists, as we're totally, totally different. She's a genius in what she's doing. She's a good friend actually. I would only compare myself to myself.
Something that people maybe don't know is that she's very sensible, but she lives and breathes Gaga.
I'm really happy for her, but lets not forget that she's a young woman doing an amazing job and she's sensitive. I do not believe it's an act because you can't act for 24/7, every day of the year.
You lost your sister when you were younger - how do you think that affected you musically?
She was actually the one person on this earth who was predicting my career. She had such a huge impact on me.
She was the pillar of my family. Even back then she predicted that I would go solo and become a global artist. She was a really special soul definitely and she's part of my life every day.
What are your plans for the future?
What I hope for is to just continue to do music. I'm just thankful that I can pay my rent by singing songs. That's my main concern - it's hard out there and a lot of doors are opening for me now and I'm taking every opportunity I have.
I'm going to think wisely and make good decisions. The Mohombi movement has already started and I'm on fire and I can't wait to come back to the UK.
Miss Me will be available from 31 October.
Mohombi was talking to Entertainment reporter Fiona Bailey.
Related Internet Links
The BBC is not responsible for the content of external sites.