Ted Hughes poem on Sylvia Plath's death published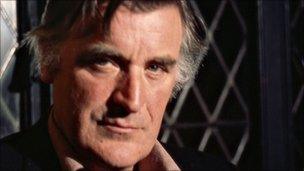 A poem in which Ted Hughes describes the night his first wife Sylvia Plath took her own life in 1963 has been published for the first time.
Last Letter has been printed in New Statesman magazine, whose guest editor Melvyn Bragg was directed to the piece by the poet's second wife, Carol.
It fits into Hughes' Birthday Letters series, described by Lord Bragg as the late Laureate's "greatest achievement".
The poem begins: "What happened that night? Your final night."
It then details, in chronological order, the last weekend of Plath's life, in February 1963, when she and Hughes were still married but living apart.
It begins with Plath sending Hughes a letter, which is intended to arrive after the weekend, but is delivered early.
The poem goes on to describe Hughes rushing to her house, where Plath reassures him that everything is fine. He leaves and she ultimately takes her own life.
Lord Bragg said he discovered the piece in the poet's archive at the British Library after Carol Hughes pointed him towards it.
In an introduction to the poem in New Statesman, Lord Bragg said he knew how much her late husband's work meant to Carol Hughes and "how fiercely and scrupulously she guards it".
The poet's final collection, Birthday Letters, which he worked on for more than 25 years, is an exploration of his tragic marriage to Plath.
Published months before his death, it sold more than 500,000 copies worldwide and received the TS Eliot Prize for Poetry, as well as the Whitbread Book of the Year award.
In personal letters, Hughes, who was Poet Laureate from 1984 until his death in 1998, said it was necessary to write about his tragic relationship with Plath to "relieve the log jam" of his creativity.
Related Internet Links
The BBC is not responsible for the content of external sites.