How Rhys Ifans became Mr Nice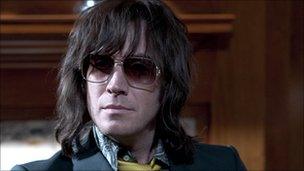 Actors sometimes seem born to play certain roles. Morgan Freeman as Nelson Mandela, for example.
So when the the life story of notorious dope-smuggler Howard Marks was commissioned for the big screen there was really only one name in the frame: Rhys Ifans.
Mr Nice, based on Howard Marks' best-selling autobiography, sees Ifans take on the role of the polymath and pothead who went to Oxford before becoming one of the world's biggest drug-smugglers.
It was an acting role that Ifans bagged for himself in the mid-90s.
"I asked Howard 13 years ago if I could play him and we shook hands and agreed. Here we are today," he says.
As Ifans and Howard Marks sit and giggle their way through our interview, they come across like schoolboys who've been caught smoking behind the bike sheds.
In Mr Nice, of course, the substances being smoked are largely illegal.
Isn't there a danger that the film might glamorise the life of a drug-dealer?
"I don't think so because he goes to prison - which isn't nice," says Ifans.
Marks adds: "It's a cautionary tale."
Like Howard Marks, Ifans was born in south Wales. He shot to fame in 1999 as the scene-stealing Spike in Notting Hill.
"Howard and I have known each other for many years, so the research was one of a long osmosis," admits Ifans.
Marks recalls their first meeting at a gig by Welsh band Super Furry Animals.
"We met first in April 1996 - I'd been out of prison about a year - the Super Furry Animals had written a song about me, and I was looking forward to see them play for the first time.
"They'd brought along some friends including Rhys, who use to be a member of the band, and we got along very, very well. I think we both got drunk."
Ifans adds: "I was living on the drummer's floor at the time and I approached Howard with a packet of Rizlas and asked him to sign them, which he did. Then I said 'I'd like to play you', and we shook on it."
In Mr Nice, Ifans stars alongside alongside Chloe Sevigny (Zodiac, Boys Don't Cry), David Thewlis ( The Boy in the Striped Pyjamas, Naked) and comedian Omid Djalili.
The movie follows the story of Howard Marks from his boyhood in south Wales to Oxford - where he is is quickly initiated into the world of drugs.
While working as a teacher, Marks brings a carload of hash back from Germany for a friend - and embarks on an international drug-trafficking career, involving the IRA and British Intelligence along the way.
But things unravel when Marks tries to crack the American drugs market. He was imprisoned in the US in 1988, and released on parole in 1995.
So what aspects of Howard Marks does Ifans capture best on film?
Marks doesn't hesitate: "My charm, my good looks, my sincerity and my wisdom."
Mr Nice is released in the UK on 8 October.
Related Internet Links
The BBC is not responsible for the content of external sites.