Reviews round-up: The Apprentice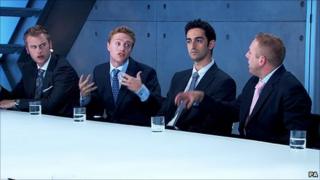 The first firing of the new series of The Apprentice took place on Wednesday night, as sales director Dan Harris left the show.
The reailty series took an unplanned break earlier this year, as the BBC sought to avoid any potential conflict between Lord Alan Sugar's political position and the general election.
But audiences welcomed the show back, as the first episode attracted 6.9 million people - including high definition viewers - according to unofficial overnight figures.
By the end of the broadcast, candidate Jamie Lester had unwittingly created a twitter phenomenon, as his newly-coined word "cringeable" became a trending topic.
Reviews for the show in Thursday morning's newspapers have been generally positive.
The Independent by Tom Sutcliffe
The Dance of the Knights may have disappeared from the series' opening sequence, but fans of The Apprentice will be relieved to know that the Parade of Egomaniacs is still in place.
Muted orchestral vamping temporarily replaced the urgent bombast of Prokofiev's tune for this, the beginning of the sixth series, but any fears of the BBC messing with a winning recipe were quickly laid to rest.
The Telegraph by Andrew Pettie
The Apprentice may look and feel just the same as it did in 2005, when it began, but the show's trump card remains its ability to unearth gloriously self-delusional nincompoops.
I feel sure that in the weeks to come Stuart Baggs the Brand will join Lord Sugar's pantheon of corporate clowns alongside Paul Tulip, Tre Azam and dear old Raef.
Britain may be in the grip of recession, but in the field of blithering idiocy we remain market leaders.
The Guardian by John Crace
It's all reassuringly business as usual, although business sense is the very last thing anyone should expect - or want - from this season's contestants, a familiar collection of 16 delusional entrepreneurs and narcissists hoping to get lucky with a job offer from Sugar.
On tonight's showing no one in their right mind would want to spend a minute working alongside any of them, let alone pay one of them £100,000. But then, since Sugar is getting 12 hours of primetime publicity, he can probably write off the salary against his marketing budget.
The Metro by Keith Watson
It's shaping up to be well worth the wait caused by the pesky general election.
The fabulously named Paloma Vivanco losing control of her sausage machine was comedy chipolatas, there was an Apprentice first - contestants who could actually do sums - and the sight of a wannabe top dog reduced to puppydom by one Sugar line. Project manager Dan was making himself a little too at home in the boardroom.
'If you don't mind, Dan, sit up in a conventional way,' withered Sugar. He was a goner from that moment. As for a winner? Stella or Jamie - but that's said without much conviction.