Nadine Coyle: 'I recorded my album in the bathroom'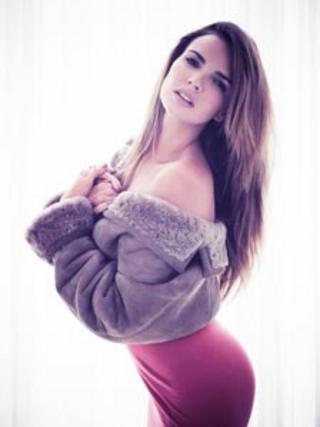 It is early September and the BBC has been invited to a swanky recording studio to hear a handful of tracks from Nadine Coyle's new solo album.
These situations are usually excruciating. A bonfire of dignity, where dozens of music industry types with "surprising" haircuts watch expectantly as music is played back at ear-splitting volume.
You find yourself staring furiously at your laces, trying to dredge up some insightful (but inoffensive) words of wisdom for the end of the session.
The artists are never present - for the simple reason that a poorly chosen word or giveaway facial tic could destroy their tiny, fragile minds.
So imagine our surprise when we are ushered into a studio to sit, unsupervised, with the Girls Aloud star as she plays us her new music directly from an iPod.
Dressed casually in skinny jeans and a scoop-necked purple top, Coyle sings along and plays air guitar over the top of her debut single, Insatiable - clearly delighted to have an audience after a year squirrelled away in the studio.
The meeting occurs under a veil of secrecy, as the material is still under wraps. But two weeks later, after Insatiable premieres on radio, we meet up again.
"The reaction's been really, really good," the 25-year-old purrs in her distinctive Derry drawl.
"People are into the music. They're saying it's really sexy and I'm blown away with it."
Was it supposed to be sexy?
"Oh yes, it was. That's how I felt when I was writing and singing it. You know that feeling of 'ooohhh - I just can't get enough?' That's the mood I was in."
Dare we ask who it's about?
[Sternly] "NO! You may not ask!"
One of your new songs has the lyric "love is serious, love is dangerous". How much do you believe that?
"I definitely believe it. People can get really badly hurt playing around with love. You may as well play with fire.
"At one point or another, everybody has to experience a real heartbreak, where you just didn't see it coming. And once you get over that, you'll never go back again. For me, I know those depths are somewhere I won't ever revisit."
Hopefully not - as Coyle has just announced her engagement to American footballer Jason Bell.
She says the proposal in Los Angeles, her adopted home city, came as a "massive surprise".
Bell had picked out the ring in advance, with his mother on hand to provide a female perspective, and the two families plan to spend Christmas together in Ireland.
Coyle is a big believer in family. When she moved to America, she took her parents and siblings with her. Together they run a bar on Sunset Beach, called Nadine's Irish Mist.
On Twitter, her personal biography reads: "Daughter, sister, aunt, best friend, singer, songwriter".
"That's exactly who I am," she nods. "I can't do anything career-wise unless I have those other things first.
"My family have been really supportive. It's unconditional."
Coyle started recording her debut album this time last year, shortly after Girls Aloud fulfilled their final commitment, supporting Coldplay at Wembley stadium.
"I asked myself 'what do I want to hear right now?'" Coyle recalls.
"I went through my iTunes and there was nothing there that was in that genre, so I just started writing it myself."
People don't know you as a songwriter. How long have you been writing?
"I've always liked writing, but my style is a lot more 'singy' than Girls Aloud's music.
"We never did big, massive notes, so it was difficult to fit my style of writing on a Girls Aloud album."
Is it true you recorded the vocals at home?
"I would record the vocals in my ensuite bathroom, sitting on a thing in my shower. Insatiable was done like that. And every so often you'd hear me kicking the bin or something.
"But Chained is the only song on the album where I kept the original vocal. We tried to re-record it, but we just couldn't get the same sound."
How much of a learning process has this album been?
"I have a whole new understanding for music. But it was also taking it back to my roots.
"Growing up in Ireland, there's such a huge music culture, and there's no miming and no nonsense. If you weren't good enough, they would turn your mic down and you would know that was your cue to leave."
Did that happen to you?
"No! But I've seen it happen. Several times. And I thought [whispers] 'oh my God, that is tough'. I've seen it happen to trumpet players or vocalists - and that was my training. It was boot camp, military style, hardcore stuff.
"So any time I've done anything musically since then, it was always easy. No-one's going to turn the mic off because the mic's not even turned on!
"You know what I mean? As long as you know your routine and your spacing. The priorities were different. And this is going back to my roots."
But no-one's going to turn your mic off now. You're in charge!
"I know, but I don't want people to want to. I want it to be good enough."
Indeed, the star is taking every step to ensure the finished product is just how she imagined it.
After we speak, she jets off to New York to master her album, poring over minutiae "like how long of a gap to leave between one song and the next".
She has also negotiated a ground-breaking deal to have her CD sold solely by Tesco, meaning it will have pride of place in up to 4,800 supermarkets around the UK.
And, unlike Cheryl Cole, she has left behind the crack team who built a record-breaking career for Girls Aloud, recruiting a new manager and publicist.
"There wasn't anything wrong with what had happened or what had gone on for years - because it was really successful," she explains.
"It just seemed like I had taken a completely different route, personally, in the writing and the production and I wanted a completely new team so we could start afresh."
It remains to be seen whether the risks will pay off.
Coyle's press has been mixed - some tabloids seem to think it is necessary to choose between her and Cheryl Cole - and her single, while undeniably catchy, sits outside the current vogue for R&B and glitchy pop.
But, as was abundantly clear as she sang along to her own iPod last month, the singer is over the moon with what she has achieved.
And sometimes that is all that matters.
Nadine's single, Insatiable, is released on 1 November. Her album, also titled Insatiable, follows a week later.