Voice of Dora the Explorer sues Nickelodeon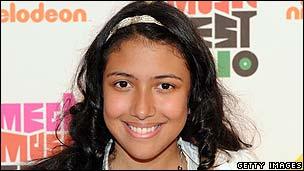 The actress who provided the voice of cartoon heroine Dora the Explorer between 2008 and 2010 is taking legal action against the Nickelodeon network.
Caitlin Sanchez, 14, claims she has not been paid fees due from reruns, DVDs, other products and promotional work.
Bilingual Dora has taught millions of US children basic Spanish phrases on her popular TV show.
In a statement, Nickelodeon said the claims were "baseless" and that the New Jersey teen had been well compensated.
"Unfortunately Caitlin's voice changed and she was no longer able to portray the Dora character, as happened with the actress who originated the role," the statement continued.
"Caitlin's contract was extensively negotiated through her agent and in compliance with her union."
According to the Hollywood Reporter, Sanchez's action alleges she was given just 22 minutes to sign an "unconscionable" contract without the advice of an attorney.
The action - which names Nickelodeon, MTV Networks and Viacom as co-defendants - claims she is owed "many million dollars".
Kathleen Herles was the original voice of Dora, playing the part between 2000 and 2004 before being replaced.
Since 2000 the doe-eyed seven-year-old has been one of the most prominent Hispanic characters on US children's television.
Related Internet Links
The BBC is not responsible for the content of external sites.