Actor Martin Shaw plays down stage withdrawal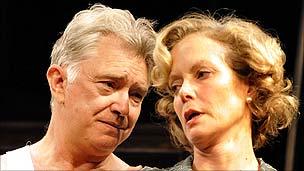 Actor Martin Shaw has played down an illness that forced him to withdraw from a play earlier this year, saying it was "just one of those things".
"These things happen," he said of the chest infection that afflicted him during a performance of The Country Girl in Shrewsbury in August.
"It would have knocked anyone down," he added. "In an ordinary job you wouldn't be working if you felt that ill."
The play is now running in London and has its opening night on Monday.
Written by Clifford Odets, the production sees Shaw reunited with his Judge John Deed co-star Jenny Seagrove.
Shaw, 65, plays an alcoholic actor in 1950s New York who is offered a chance for a career-resurrecting comeback.
The former Professionals star previously appeared in an earlier staging of the play that ran at the Apollo Theatre on London's Shaftesbury Avenue in 1983.
Yet he refuses to be sentimental about returning to the same venue with the same play almost three decades on.
"There's a nice bit of serendipity involved," he told the BBC News website. "But in fact it's no different from any other play.
"Each time you take a part, it's a completely different experience. If it's a different part, it's a different happening altogether."
Nor will he cite the old adage that "the show must go on" to explain why he performed at Shrewsbury's Theatre Severn despite having recently cracked his ribs.
"It would be really nice to say it's all to do with dedication and so on," he said on Friday at a photo call for the West End run.
"But it's more to do with the fact that logistically it's incredibly complicated if you drop out of a show.
"In this job you carry on until you drop, literally," he continued, adding that it was the first time he had had to withdraw from a play mid-performance.
"These things happen on tour because it's extremely demanding and stressful."
Shaw missed five performances in total in Shrewsbury but returned to the production the following week when it moved to Milton Keynes.
The actor, best known for playing Ray Doyle in The Professionals, has since played the title roles in Judge John Deed and Inspector George Gently.
Grace Kelly appeared alongside Bing Crosby in a 1954 film of The Country Girl and won an Oscar for her trouble.
The play was revived on Broadway in 2008 with Morgan Freeman and Fargo star Frances McDormand in the lead roles.
Related Internet Links
The BBC is not responsible for the content of external sites.