Michael Jackson memorabilia sale fetches $1m in Macau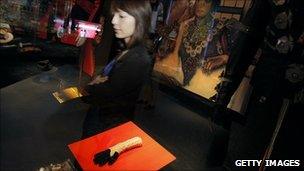 An auction of Michael Jackson memorabilia has fetched more than $1m (£626,000) in Macau, China.
A basketball autographed by the late singer and former player Michael Jordan netted $245,000 (£153,000) at the Hollywood Legends sale.
An unidentified online bidder paid $180,000 (£113,000) for a black crystal-studded glove Jackson wore in a video shoot for 1995 album HIStory.
Other sale items included a costume worn by Bruce Lee in Game of Death.
Michael Keaton's costume in Batman Returns and a burgundy, velvet ball gown worn by Princess Diana also went under the hammer,
The sale, put on by US-based Julien's Auctions was touted as the largest celebrity memorabilia auction in Asia.