Viv Hope to make Emmerdale exit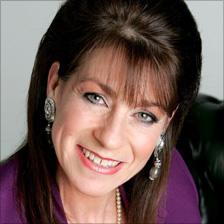 Emmerdale's Viv Hope, played by actress Deena Payne, is to leave the soap after 18 years, producers have announced.
The outspoken character, who runs the Yorkshire village's corner shop and cafe, will have an "unmissable and moving exit".
"I'm very proud of Viv and the impact she has had over the years. I will miss pulling on her shoulder pads and high heels every morning," said Payne.
Viv's storylines have included being wrongly imprisoned for fraud.
Her first husband was murdered, she gave birth to twins in a barn and was married to second husband Bob on two occasions.
She is known for her brassy outfits, consisting of high-heeled shoes, shoulder pads and fake animal print.
Payne added that she is "very excited about what the future holds".
Series producer Gavin Blyth said: "Deena created one of Emmerdale's most iconic characters in Viv. She's been a fundamental part of the show over the years and a valued member of the cast.
"We do not take decisions about losing characters lightly but it is also the nature of soap that characters must come and go from village life," he added.
Viv's exit is going to form part of a big winter storyline for the rural serial.
Related Internet Links
The BBC is not responsible for the content of external sites.