Plan B scoops four prizes at the UK video music awards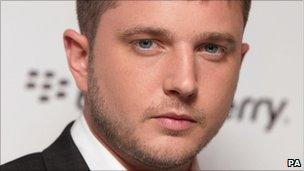 British rapper Plan B landed four awards at this year's UK Music Video Awards.
The star scooped the trophies for best pop video and best art direction for Prayin', as well as best cinematography and best styling for Stay Too Long.
Grammy-award-winners OK Go took home the gong for best video of the the year for their This Too Shall Pass film.
The video featured a domino-effect-style sequence of events which ended with the band being soaked with paint.
The US band's film, which has been seen more than 18 million times on YouTube, was also named best rock video.
It features a gigantic Rube Goldeberg machine, where marbles, desk fans and car tires trigger increasingly complex stunts, including a piano falling from the roof and the destruction of a television.
The director of Plan B's videos, Daniel Wolfe, was also named best director.
Garth Jennings and Nick Goldsmith, also known as Hammer & Tongs, won the icon award for their contribution to the industry.
The pair have made eyecatching videos for Supergrass, Fatboy Slim and Vampire Weekend.
Possibly their most famous promo clip was for Blur's Coffee & TV, an animation which told the story of a milk carton who falls in love.
The production duo went on to make the movies Hitchhiker's Guide To the Galaxy and Son of Rambow.
Lady Gaga's Bad Romance won best international video, while the prize for best urban video went to Jay Z's On To The Next One, and Hot Chip's I Feel Better scooped the trophy for best dance video.
Related Internet Links
The BBC is not responsible for the content of external sites.