Bryan Ferry and Roxy friends stick together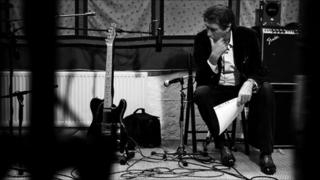 Bryan Ferry enjoyed huge chart success in the 1970s and 1980s both with Roxy Music and in a parallel career as a solo singer.
His new album Olympia, his first collection of new material for eight years, is out next week and includes collaborations with Roxy Music bandmates.
As a songwriter, Ferry has written and co-written hits including Love Is The Drug, Dance Away and The Same Old Scene.
He's also had hits with songs including Let's Stick Together and John Lennon's Jealous Guy.
The 65-year-old, who was born in Washington, County Durham, talks about hanging out in Ibiza, being friends with Kate Moss and how his bandmates were "probably sad" over his solo career.
You've worked with the Scissor Sisters and dance music producers Groove Armada on the album. Is this a new direction for you?
The album's a collection of songs from here, there and everywhere really - mainly my own songs.
Some of them are songs I've written myself, others are collaborations with various people. Some of them may be unexpected collaborations.
One's with Groove Armada which is a song called Shameless. I've been to Ibiza a couple of times in the last few years and enjoyed some of that dance music that they do out there.
Groove Armada kind of exemplify that kind of scene and it's not that far removed from some of the things we did in the early Roxy days - extended vamps on a chord.
We did another one with the Scissor Sisters as well, Heartache By Numbers, which is more of a kind of a pop sensibility really.
How do you go about writing with people you've never written with before?
With great fear and trepidation. In the old days, I didn't really ever think of collaborating very much except with one or two songs I wrote with the guys from Roxy.
Normally, I saw songwriting as very much a kind of lonely furrow to plough really.
Now I'm much more open to doing stuff with other people and it's quite nice to extend yourself in that way.
What's Kate Moss doing on the cover of your album?
I've frequently had cover girls on the album covers.
In the past we've had unknown people who we've enjoyed discovering.
This time we thought it would be great to have someone who's a big, famous icon and Kate was the person we thought of as being the ideal girl to have.
We know her a bit and she said she'd love to and it worked out really well.
What was the involvement of your Roxy Music bandmates in the new album?
Phil Manzanera had more involvement than the others because I wrote one of the songs with him - BF Bass (Ode To Olympia) - so he plays a lot on that song.
Andy Mackay plays a bit of oboe here and there on a couple of tunes. Not a great deal but he doesn't really have to - when Andy plays one note on the oboe it's got a real sound and a haunting quality.
And also Brian Eno plays a couple of keyboard things on a couple of the songs as well.
At one point, I was thinking of making a Roxy album but then I decided that this wasn't the right project for that.
Hopefully we'll do something some other day which is maybe a bit more abstract than this album.
There isn't a Roxy album planned but there might be one day.
Any other interesting characters on the album?
David Gilmour, from Pink Floyd, who's a wonderful soloist, as we all know.
Jonny Greenwood, from Radiohead, guests on a couple of tracks.
Mani, from The Stone Roses and Primal Scream, and Flea, from Red Hot Chili Peppers, guested on bass on a couple of tracks.
Mani's a real great character. It turns out he's a big Roxy fan so that was terrific when somebody knows your work.
Your solo album came quite early on in the success of Roxy Music...
It came about because, after the second Roxy album, I felt I'd made a statement as a songwriter.
I'd written two albums of songs with Roxy and I just wanted to do another kind of record which featured me as a singer and producer and arranger and not as a songwriter.
As a singer, there were so many songs I wanted to have a go at, songs from different genres. The title track was from the 1930s, These Foolish Things, which was one of the great classic songs of all times.
It was a really successful record so it started a whole other career for me, separate from the band and a different kind of mood, it was more upbeat than the band records in some ways.
How did the band feel about your solo career?
In some ways, they were probably sad that I was doing things away from them.
On the other hand, it possibly developed the audience a bit and brought in a more mainstream audience, perhaps, to listen to the Roxy things.
What are your memories of the first Roxy Music single, Virginia Plain, becoming successful?
I remember being in a van on the motorway which is the right way to hear your first record on the radio.
It was exciting, exciting times to feel that you'd actually found an audience.
When we were first started making records we didn't feel it was going to be popular music, particularly, but more for a specialised audience. We were quite surprised.
What was it like being in Roxy Music at the height of your success?
One thing just led to another, really.
I suppose the greatest success we had was Avalon, the final album, in '82, and it was a very different record.
It was an interesting record with very defined moods.
It was quite a beautiful sound, I think - we were very pleased with that record.
Would Roxy Music have succeeded if they'd started out today?
That's the $64,000 question isn't it? I couldn't answer that one.
It would be tough, I think.
Olympia, by Bryan Ferry, is out on Monday 25 October.
Bryan Ferry was speaking to BBC News entertainment reporter Liam Allen.