Edward Bond: I still get letters written in blood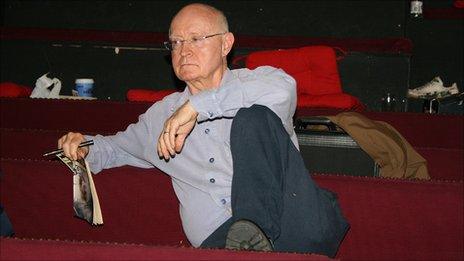 "I have this reputation in British theatre of being difficult to work with. In fact I'm not - ha!"
Edward Bond is stretched out casually in the back row of the Cock Tavern Theatre in north-west London.
The 76-year-old dramatist is the author of some 50 plays, six of which are being presented at the Cock Tavern in a season of works that span Bond's six decades of writing.
His plays are rarely put on in major UK theatres (Bond having fallen out with big institutions like the RSC and the National Theatre).
His plays, which confront audiences with scenes of shocking violence, examine the human condition and have inspired younger dramatists such as Mark Ravenhill.
Bond himself has been closely involved in the Cock Tavern season, attending rehearsals and taking on directorial duties on The Fool (first seen at the Royal Court in 1975).
He was also commissioned to write a new work, There Will Be More, which has its world premiere on 26 October.
Bond is well aware of his "difficult" reputation.
"Why doesn't my stuff fit in with what happens in UK theatre at the moment? This is because I think UK theatre has abandoned its responsibilities. It's not appropriate for our times."
It is a subject that Bond likes to raise in interviews. This occasion is no different.
What about his involvement in the season at the Cock Tavern?
"I've been as helpful as I can," says Bond. "I think the work in the British theatre at the moment is not good and I don't think people really understand much about the possibilities of theatre. I'm certain they don't rise to the crisis of drama that we are presented with."
Aware that they are working with one of the UK's major living dramatists, the directors at the Cock Tavern are keeping diaries of the creative process.
"I'm sure they could be very interesting," says Bond. "Most of the diaries I've read about me are very inaccurate."
He adds: "People often ascribe to you their own opinions - they think they will have a discussion about a particular subject and actually I'm talking about something else. And that's an account of what happens in most rehearsals."
How does he describe his relationship with directors?
"I think it's difficult for directors," says Bond. "It doesn't matter to me if things aren't working out. I just say goodbye. If somebody wants to do a bad production - then fine. I'm not worried."
Pressed on this, he adds: "Don't misunderstand me, I would rather they were good than bad. I get a bit tired of being shouted at by angry little men, so I've learned to avoid all that.
"I don't lose my temper, I don't get cross. But I can make other people very angry - not intentionally."
Has there, I ask, been anger in the auditorium in which we sit?
"Mind your own business," says Bond.
Edward Bond's first play - The Pope's Wedding (1962) - is one of the six plays being presented in the Cock Tavern season.
He's the author of works such as Restoration, The Sea and Bingo - and also gained an Oscar nomination for co-writing the screenplay of director Michelangelo Antonioni's Blow Up (1967).
But Bond is best known for Saved (1965) - featuring a scene in which a group of teenagers stone to death a baby in a pram.
It's not a play anyone is likely to see again soon. "I don't allow people to do Saved because they can't do it," asserts Bond.
"They don't know what theatre is. I say that absolutely seriously. Our big national institutions don't understand what theatre is at all. Increasingly they hate actors - they treat actors as things they can use."
Bond gives a passionate speech about the need for "dramatic honesty".
"You turn on the television and what do you see? It's rubbish, it really is. All the money that is spent on TV drama, you tell me one play on TV that's raised human consciousness?
"Why is it these Greeks two-and-a-half thousand years ago could do that and we can't? It's because our society is devoted to prostitution and exploitation."
Interviewing Bond can be frustrating. Asked about his brand new play, he adopts a mischievous expression.
"I don't want to answer that. I want to continue answering the question that I was answering - even if you hadn't asked the question."
He explains how he mostly writes now for foreign theatre, and his new work in the UK is for young people. Then he returns to the subject of his most controversial work, Saved.
"When it was produced... the scandal and shock and the horror... people were fighting in the theatre... the abuse in the papers. I used to get letters written in blood and excreta. I was regarded as some sort of moral hyena."
Does he still get letters written in blood? "Occasionally, yeah."
The Edward Bond season at the Cock Tavern Theatre continues until 13 November.
Related Internet Links
The BBC is not responsible for the content of external sites.