Angelina Jolie prevented from filming in Bosnia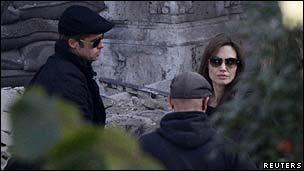 Angelina Jolie has been prevented from filming her directorial debut in Bosnia after its culture minister revoked a permit to shoot in Sarajevo.
Gavrilo Grahovac said the filming permit had been rejected because no screenplay had been attached to the application, as required by law.
An association of female victims from the Bosnian war had objected to the film over its alleged content.
Jolie does not appear in the untitled film, currently shooting in Hungary.
According to Variety, the film tells of a Serbian man and Bosnian woman who fall in love in the middle of the 1992-1995 war.
It was reported in Bosnia-Hercegovina that the love story would be between a Serbian rapist and his Muslim victim.
The Women Victims of War association reacted angrily to the reports, claiming the film would be guilty of "misleading history".
After meeting representatives from the group, Mr Grahovac made the decision to cancel the previously issued permit.
"They no longer have the authorisation to shoot in Bosnia," he said in a radio interview.
"They will have it if they send us the scenario with a story which will be different from what we have been told by people who read it."
Jolie reportedly wrote to the women's group last week to reassure them about her film and ask them not to judge her until they had seen it.
A Scout Film representative has said that a script has now been sent to the culture ministry.
"I hope the film will get the green light after the officials see the script," Edin Sarkic told the Reuters news agency.
Jolie, recently seen in action thriller Salt, has been photographed on the Budapest set of her film, as has her long-term partner Brad Pitt.
The film stars Bosnian actress Zana Marjanovic and veteran actor Rade Serbedzija, who was born in 1946 in what is now Croatia.