Damien Hirst butterfly artwork fetches £2m at auction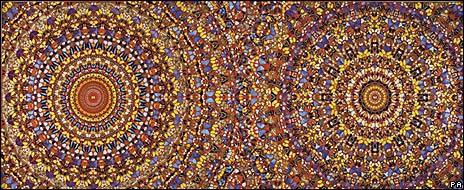 A Damien Hirst artwork created entirely from thousands of butterfly wings has been auctioned in London for £2.2m.
I am Become Death, Shatterer of Worlds - previously owned by the city's Gagosian Gallery - had been expected to fetch between £2.5m and £3.5m.
The title of the work - Hirst's largest using butterfly wings - echoes words scientist J Robert Oppenheimer later said after the first atomic bomb.
Christie's sale of post-war and contemporary art continues on Friday.
Mr Oppenheimer's comment was based on a line from the Hindu scripture, the Bhagavad Gita.
A two-day auction of art by Damien Hirst set a new record for a sale dedicated to one artist in 2008.
The sale, which featured more than 200 lots, fetched £111m at Sotheby's London branch.
Related Internet Links
The BBC is not responsible for the content of external sites.