Angelina Jolie responds to Bosnia film row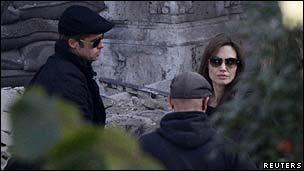 Angelina Jolie has asked critics to "hold judgement" on her directorial debut following reports that Bosnia's culture minister had revoked a permit enabling her to shoot in Sarajevo.
An association of female victims from the Bosnian war are objecting to the film over its alleged content.
It was reported that culture minister Gavrilo Grahovac withdrew the filming permit after meeting with the group.
Jolie's producers, however, said it was "a purely technical matter".
"We are obliged to reapply for the permit to shoot Angelina Jolie's directorial debut with the appropriate government offices in Sarajevo now that the final script is available," a statement from GK Films read.
"The stories about the film which have recently been circulated are incorrect."
Currently shooting in Hungary, the film reportedly tells of a Serbian man and Bosnian woman who fall in love during the 1992-1995 war.
Objections were raised after it was reported in Bosnia-Herzegovina that the love story would be between a Serbian rapist and his Muslim victim.
The Women Victims of War association reacted angrily to those reports, claiming the film would be guilty of "misleading history".
Without revealing specific details about the plot, Jolie asked people to "hold judgment until they have seen the film".
"Obviously any dramatic interpretation will always fail those who have had a real experience," the Oscar-winning actress wrote. "This is not a documentary.
"There are many twists in the plot that address the sensitive nature of the relationship between the main characters and that will be revealed once the film is released."
Jolie does not appear in the untitled film, which stars Bosnian actress Zana Marjanovic and veteran actor Rade Serbedzija.
Jolie, recently seen in action thriller Salt, has been photographed on the Budapest set of her film, as has her long-term partner Brad Pitt.